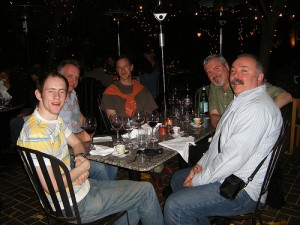 Whenever I order take out from a restaurant I frequently spend more time trying to figure out how much I should be tipping the delivery driver than actually choosing what I am going to order. Just like anything else that requires service, it is customary to tip. The question is, how much to tip?
When I am going out to dinner I usually find myself leaving anywhere from 15 to 20 percent. Some people feel that 10 percent is adequate. I think you should leave what you feel is appropriate for the service that you received. You should never go below 10 percent unless the service was really bad and you know it was the wait staff's fault.
Up until recently I never tipped when I carried out food from a restaurant. There is no one taking care of me so I didn't think it was necessary. When I shared my thoughts on this with someone they couldn't believe it. They said they always tip 10 percent on carryout orders. Once again I think its entirely up to to the person and the service you've received.
Another big tipping opportunity is after getting your hair done. I go to Great Clips for my haircuts and they charge $12 dollars for a haircut so I leave $3 dollars. It is fairly customary to leave 10 percent, but I feel weird leaving only $1 dollar.
When I was doing some research I found a tipping etiquette guide for how much to tip. They had a pretty comprehensive list of different services.
Gardener: $20 – $50
USPS Mail Carrier: Non-cash gifts up to $20
Apartment Building Superintendent: $50 – $200 until you tip throughout the year for services
Massage Therapist: $15
Newspaper Carrier: $25 – $50 if daily or $10 for weekend delivery
Teacher: $10 – $100
Full-Time Nanny: One weeks pay
Taxi Driver: 15 percent on total fare or 20 percent if they help with bags
Hotel Valet: $1-$3
Hotel Bellman: $1 – $2 per bag
Hotel Room Service: 15 to 20 percent, if gratuity is not included
Hotel Maid Service: $3 – $5 per day
Tour Guides: Up to $3- $5 per person for full day trips. If it a private tour this will be more.
Restaurant Server: 15 to 20 percent
Bartender: 15 to 20 percent or $1 per drink
Restaurant Coat Check: $1
Movers: $10 – $20 for a normal move and more for something more difficult
Food Delivery: 15 percent, but not less than $2
Car Wash: $2 – $3 or 15 percent for a car detailing
These amounts are simply a guide to follow. As with anything else, the amounts can vary depending on if you live in a big city or a small town. Tip with what you feel is appropriate for the service that you received.
What kind of tip do you usually leave when you go out to eat or get your hair cut?
The following two tabs change content below.
Sean Bryant
Sean Bryant created OneSmartDollar.com in 2011 to help pass along his knowledge of finance and economics to others. After graduating from the University of Iowa with a degree in economics he worked as a construction superintendent before jumping into the world of finance. Sean has worked on the trade desk for a commodities brokerage firm, he was a project manager for an investment research company and was a CDO analyst at a big bank. That being said he brings a good understanding of the finance field to the One Smart Dollar community. When not working Sean and he wife are avid world travelers. He enjoys spending time with his daughter Colette and dog Charlie.
Latest posts by Sean Bryant (see all)