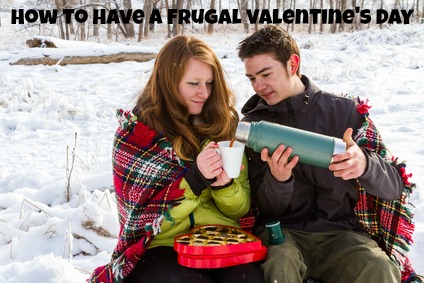 The National Retail Federation reports that, in 2014, the average American spent a whopping $133.91 on Valentine's Day cards, dinners out, candy and flowers. While you might want to treat your sweetheart to a fancy meal or bouquet of long-stem roses, you're not made of money. You have a significant other, but you also have to eat and pay rent. Fortunately, with a little pre-planning and ingenuity, you can still have a romantic and meaningful Valentine's Day. Thanks to some fun DIY and low-cost options, you can show your sweetie your love without breaking the bank.
Look for deals on gift cards
If you or a family member or friend have a membership to a warehouse store, you can find some amazing deals on upscale restaurant gift cards. Last V-Day, a BuzzFeed Community Contributor suggested going to Costco or Sam's Club for the $80 for $100 gift card deals. To save even more, plan a double date and split the gift cards so you only spend $40 per couple.
Let Cupid inspire you in the kitchen
As the saying goes, the way to a man's heart is through his stomach; well, that sentiment also applies to foodie girls. If you have plenty of love and affection for your honey but not a lot of money, no worries—serve him or her inexpensive and romantic treats all day long.
Starting with breakfast: heart-shaped pancakes—simply use a large heart-shaped cookie cutter and then drizzle the hearts with strawberry syrup (to make them red!) For extra flair: Architecture and Design's 25 Romantic Hacks for Valentine's Day includes the idea of writing on a banana; a play-on-words is always cute, like "I've gone bananas for you" or "I hope we never split."
For dessert, serve homemade heart-shaped cupcakes. Place the cupcake frills in the pan and add a glass marble on the outside of each frill—it will push in the paper and make a heart.
DIY gifts (even the edible ones) are always a good idea. Homemade shows just how much time and effort you put into giving your Valentine the perfect token of love.
Combine spendy and thrifty
Another great way to celebrate Valentine's Day is to splurge on one gift, then combine it with free or low-cost activities. This year, Valentine's Day falls on a Saturday, so instead of getting a gift AND flowers AND chocolate AND going to dinner, it's the perfect day for staying at home in your pajamas and snuggling on the couch while you binge on Netflix. Of course, you need an actual gift, so earlier in the week, order a gorgeous bouquet of roses, lilies or tulips from an online floral retailer and have them delivered while you're enjoying time together at home.
Check out this article on Life Hack for some additional suggestions that you do the rest of the day; this could be catching a matinee movie, going to a karaoke night, renting a movie or enjoying a romantic picnic under the moon.
The following two tabs change content below.
Sean Bryant
Sean Bryant created OneSmartDollar.com in 2011 to help pass along his knowledge of finance and economics to others. After graduating from the University of Iowa with a degree in economics he worked as a construction superintendent before jumping into the world of finance. Sean has worked on the trade desk for a commodities brokerage firm, he was a project manager for an investment research company and was a CDO analyst at a big bank. That being said he brings a good understanding of the finance field to the One Smart Dollar community. When not working Sean and he wife are avid world travelers. He enjoys spending time with his daughter Colette and dog Charlie.
Latest posts by Sean Bryant (see all)