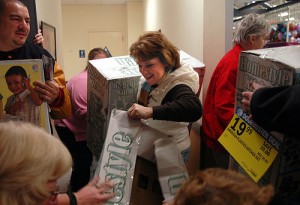 I don't know about you, but for me the holidays are in full swing. Charity events, church functions, school get-togethers, business holiday cocktail parties and the list goes on… Oh, and I didn't even mention friends and family!
Besides the drain on your time and pocketbook, some common pressures that cause financial stress during the holidays are attaching happiness to material things and trying to outdo yourself each year.
The retail industry gears up for the holidays, telling you that to be happy you need things. Many people shop till they drop, thinking that the things in their basket will make this holiday a happy one. However, the more people spend, the larger their debt grows. Once the holidays are over, many people face large amounts of debt.
The excitement of the holidays also leads many people to want this holiday to be better than the last one. I have known people who get into competitions with family member to provide the "better" holiday. Sometimes in the heat of the competition with oneself or someone else, people spend far too much money and in the New Year they end up paying for it many times over.
But if you are going to buy gifts keep in mind that trying to find the perfect gift in one shopping trip isn't always practical, particularly if you're someone who follows the ―shop till you drop‖ approach. Just short of dropping, you may decide you're tired of browsing around and buy the next thing you see, regardless of cost.
Make a list
Make a list of who you have to buy for and what you want to buy them. Write down specific items you want to buy for each person and do some research to determine the estimated cost of each gift. Be as specific as possible to help you avoid impulse shopping in the store.
Check your list often
Once you have your list, check it regularly to compare it to sales and special holiday ads and Black Friday or Cyber Monday offers you find. Check online, check your local newspapers and keep an eye out for sales. Every time you find a deal on a gift that's on your list, write down the information for the sale and how much you will save. If you find a better deal later, change the information so you always have the information on the best deal written down.
Get an early start
Retailers continue to open earlier and earlier for Black Friday and many stores now offer consumers the opportunity to shop pre-Black Friday sales in the late night hours of Thanksgiving on Thursday. Shopping as early as possible ensures gifts on sale don't sell out before you get there and also helps you avoid some of the hassle and annoyance of full scale shopping mayhem that happens on Friday.
Don't deviate
Retailers put in hard work to make attractive store displays intended to pull you into spending more money on Black Friday. Shopping with a list decreases the potential for impulse purchases, but only if you can commit to sticking to your list. Remember, if you didn't intend on buying something, then even a sale price is more money than you wanted to spend.
Make friends online
Like stores that you want to shop at on Facebook and Follow them on Twitter. In the days leading up to these two big shopping days, many retailers will offer exclusive deals and promotions to their social media audience that you won't find other places!
For more great money saving ideas and tools to be in charge of your money check out Power Up: Taking Charge of Your Financial Destiny (Wiley, 2013). This survival guide delivers an array of financial information including guidelines for creating and sticking to realistic budgets, the tricks that credit card lenders use to drive consumers into debt, tips on how to successfully live without using credit cards, and even priceless advice on how to educate your children about money and personal finance.
About the author: Howard Dvorkin, CPA, is the founder of ConsolidatedCredit.org and PowerWallet.com. He is a personal finance expert and consumer advocate with over 20 years of experience and  the author of Power Up: taking Change of Your Financial Destiny (Wiley 2013)
The following two tabs change content below.
Sean Bryant
Sean Bryant created OneSmartDollar.com in 2011 to help pass along his knowledge of finance and economics to others. After graduating from the University of Iowa with a degree in economics he worked as a construction superintendent before jumping into the world of finance. Sean has worked on the trade desk for a commodities brokerage firm, he was a project manager for an investment research company and was a CDO analyst at a big bank. That being said he brings a good understanding of the finance field to the One Smart Dollar community. When not working Sean and he wife are avid world travelers. He enjoys spending time with his daughter Colette and dog Charlie.
Latest posts by Sean Bryant (see all)