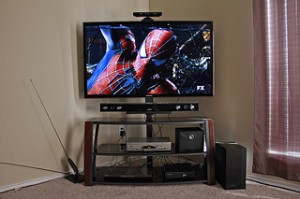 If you're someone who really likes to buy your electronics at the top end of the technology scale, you're probably used to paying high-end prices too. The one thing does tend to follow the other. However, if like most people, you would like to save a little while still getting state-of-the-art electronic equipment, nobody could blame you. There are ways, which with a little research and creative thinking, you can buy even high-end consumer electronics for a lower price than you might have imagined. Here then, is a list of 5 tips that can save you money on high end electronics purchases.
Forget the Extended Warranty
When buying electronics, many high street stores try to sell you an extended warranty or support scheme to go along with your new purchase. This is particularly true when you are shopping at the high end of the quality and price range. Sales assistants will fall over themselves to try to talk you into an extended warranty purchase. There is only one reason for this and it's not because they're concerned for the future of your new HDTV or home theater system. Sales assistants get paid commission every time they sell a warranty, hence their eagerness.
Don't fall for it. If you are spending a lot of money on high-end electronic equipment, you are paying for quality. If you buy a quality item, it's not likely to fail on you in a hurry. In fact, trying to sell you an extended warranty is a bit like telling you not to buy the item because it's likely to fail within three to five years. If you truly believe the expensive item you are about to buy needs extended protection, don't buy it. On the other hand, if you are confident in the quality of the brand that you are buying, save yourself a chunk of money and say no to the extended warranty.
Forget the Stigma, Buy Refurbished
When you buy a refurbished item of electronic equipment from a reputable retailer or directly from a manufacturer, you can be sure the quality is the same as a new item, for many hundreds of dollars less. Nobody else has to know that your purchase isn't brand new. Your friends and neighbors won't know from looking at the item when it's unpacked and looking flash in your home. Additionally, in the unlikely event that a refurbished item develops a fault sooner than you might have expected, at least you have the consolation of knowing you paid a low price in the first place.
Don't Be Afraid to be Passé
When you buy top-of-the-range high-end electronics, you are probably doing so for the quality and rich features that come with a premium product. You can get all that without paying the premium price of the very latest model. In fact, if you forget about whether items are still "in date" or not, you have a choice of ways to benefit. You can either save a bundle of money by buying last year's model, or buy last year's model of an even higher end item and get more for your money. In reality, the newest models often have little more to offer than the model sold previously, while the price is generally increased by a disproportionately high margin.
There's High End and There's High End
One way to save money on high-end electronics is to think logically. Unless you care only about the brand name, which is perfectly fine, although illogical, you should check the specifications of similar products by different manufacturers. A perfect example of this is illustrated by the two recently launched gaming consoles, PS4 from Sony, and Xbox one from Microsoft. These are the two best gaming consoles money can buy. The specifications are very similar across both units, but the PS4 is $100 cheaper.
Given that neither unit is backwards compatible with games for the older versions, there can be little logical reason to choose the more expensive item. Personal preference will usually influence your purchasing decisions, but setting it aside in favor of logic can often yield some cost savings.
Look For Deep Discounts and Coupons
Another way to save (sometimes a lot) of money on high-end electronics is to shop around thoroughly and look for discounts. This does mean sometimes you need to be patient and wait for sale time, but saving money like all good things, requires some sacrifice. There are many websites, which help you to find the deepest discounts on electrical items. You should also hunt for coupons online which offer price reductions or rebates for specific electrical items. Even if you only manage to save the shipping costs for an electrical item bought online, a saving is a saving. Sites like Valpak issue hundreds of printable coupons or coupon codes for consumer items including high-end electronics and audio brands like Bose.
Combine the Tips Above for Greater Savings
The five tips above represent simple ways to save a lot of money on high-end electronics. They don't require much legwork and, better still, you can combine them all and really maximize your savings. Buying high-end electronics will always be an expensive choice, but that's all the more reason to look for savings.
The following two tabs change content below.
Sean Bryant
Sean Bryant created OneSmartDollar.com in 2011 to help pass along his knowledge of finance and economics to others. After graduating from the University of Iowa with a degree in economics he worked as a construction superintendent before jumping into the world of finance. Sean has worked on the trade desk for a commodities brokerage firm, he was a project manager for an investment research company and was a CDO analyst at a big bank. That being said he brings a good understanding of the finance field to the One Smart Dollar community. When not working Sean and he wife are avid world travelers. He enjoys spending time with his daughter Colette and dog Charlie.
Latest posts by Sean Bryant (see all)