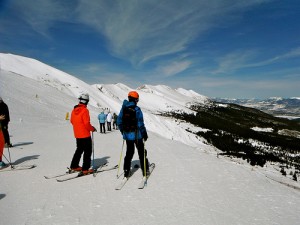 Just when I thought spring was here to stay mother nature decided to throw us a curveball.  This past weekend is was 70 degrees and today we are forecasted to get 6-12 inches of snow here in Denver.  Don't get me wrong, I'm not complaining because as we speak I am on my way up to the mountains for one last good powder day of snowboarding this season. How is the weather in your part of the country?
Enough about the weather how about we get on to some of my favorite article this past week that were submitted to the Festival of Frugality.
John presents Cars: Necessary Evil or Asset? posted at Married with Debt. Ive written before about selling my car when I pondered the idea that a paid-for vehicle could be sold for quick cash in an emergency situation. While this would not be as ideal as having the same amount in cash, that isnt always a reality for everyone.
Crystal presents Mortgage Payoff Race Update – Changing Priorities? posted at Budgeting in the Fun Stuff. Last September, Jason and I decided to make a bet – who can pay off a mortgage first. We are almost there but may use the money for different investments.
Oscar presents 5 Money Saving Tips for Property Maintenance posted at Money is the Root.
Jon the Saver presents Why Adults Should Have a Piggy Bank posted at Free Money Wisdom. Having a piggy bank is not just for the kids these days. In fact, it's critical that you have one even as an adult. Trust me on this.
Wayne presents Did You Buy a Home Too Early? posted at Young Family Finance. My wife and I are getting really excited about moving in the next year. As a result of starting to plan for our move, we've started to think about buying a condo instead of renting. When we compare mortgage payments for condos that we would want to buy and the cost to rent a place, both options are about the same price.
LaTisha presents Why is Sleep Important for Successful People? posted at Financial Success for Young Adults. Sleep plays a vital role in good health and well-being. Everyone needs a different amount of sleep so test your body to see how much rest is right for you.
Edgar presents Student Loan Series: Loan Forgiveness posted at Degrees and Debt. Learn various methods to achieve student loan forgiveness.
harry campbell presents How to Cash in Your Change For Free with a CoinStar Machine posted at Your PF Pro. I'm sure you've seen CoinStar machines at your local grocery store and some of you may already use their services, but the hefty fee has always kept me away. I don't typically pay for many of my purchases with cash, but for some reason I still seem to accumulate quite a bit of change.
Peter presents Dumping Services and Negotiating Rates on Ones You Keep Means Long Term Savings posted at Bible Money Matters. My wife and I have been looking for ways to cut back our expenses when it comes to our regular monthly bills, and by and large we've been pretty successful in doing that.
Call Me What You Want Even Cheap presents Read The Fine Print! posted at Call Me What You Want Even Cheap. I have had the same cell phone number and have been with the same cell phone company Rogers since I was 14. I've never had any issues with them and have always been treated very well. I guess my 18 year relationship with them made me feel like I didn't need to read the fine print, which is so unlike me because I usually read everything.
Matt presents Strategic Planning for the Everyday Family posted at Living in Financial Excellence. Far too often, people spend much of their lives chasing dreams and goals that end up not being in sync with their core values and beliefs. It's important to us to make sure our goals support our values, rather than force us to change in order to hit those goals.
Little House presents Durable House Paint Jobs posted at Little House in the Valley. Homeowners realize that maintaining a good paint job on the exterior of their home helps to maintain the value of their investment. However, advances in technology have made exterior paint jobs with conventional materials a thing of the past. Currently, there are a lot of available paints that are set to last for longer periods of time.
Everything Finance presents Three Unexpected Places to Save Money posted at Everything Finance Blog. What about when you feel like you've pinched your last penny and still don't have room in the budget? These tips are for you.
John S presents How Should You Spend Your Tax Return? posted at Frugal Rules. The average tax return is nearly $3,000. Receiving that sum of money all at once can lead to easy temptation. Make sure you make wise decisions with that money, whether it be paying off debt or investing for the future so you can make the money work for you.
CF presents Recipe Idea: Easy Butter Dinner Rolls posted at The Outlier Model. Rather than heading out to an expensive bakery, why not try making dinner rolls at home? This Easter, we baked our own bread to go with turkey dinner. Check out the recipe we used and our experience making the rolls!
Miranda Marquit presents How Do I Get My Free Credit Report and Score Online? posted at ReadyForZero Blog. When's the last time you checked your credit report? This blog post tells you everything you need to know about obtaining your free credit report and score.
Miss T. presents Three Reasons I Prefer Experiences to Things posted at Prairie Eco Thrifter. One of the biggest differences between my husband and me is the way we like to spend our money. I prefer experiences, and he likes things. Here are 5 reasons I prefer experiences to things.
Emily presents Money Advice for Soon-To-Be College Grads posted at One Smart Dollar. Most financial problems start right after you graduate from college. You get your first big paycheck and don't know what to do with it. My advice, don't spend it all in one place.
Jeremy presents Guide to Starting a Blog posted at Modest Money. If you think blogging might be a good idea, read on to learn how to get started. Then do plenty of other reading including my blogging tips series. You will be up and blogging in no time.
Paul Vachon presents How to Control Spending in 5 Easy Steps posted at The Frugal Toad. Controlling spending habits does not need to be difficult, in fact the process is a simple one. The difficult aspect of reigning in spending is deciding what you are willing to give up. By following these 5 steps, you will be well on your way to controlling your spending.
Girl Meets Debt presents Girl Meets Debt, No Longer a Shopaholic posted at Girl Meets Debt. I am a smart girl but I did not really see my shopaholic ways as being a serious problem because I think our consumerist society has portrayed shopaholics as flaky, fashion-obsessed women living in a material world like Becky in the popular Confessions of a Shopaholic book series. How popular culture portrays and downplays shopping addictions is whole other post that I will not get into here. Lets just say I strongly disagree.
Glen Craig presents Five Ways Fantasy Baseball is Like Personal Finance posted at Free From Broke . In playing fantasy baseball, I realized there were many similarities to personal finance!
Mike Collins presents Car Buying Tips and Tricks posted at Wealthy Turtle. Discover 6 car buying tips and tricks that will help you outsmart the dealer and get the best price possible on your new car.
Michael presents How to Make Money at the DMV posted at PT Money. One of the staff writers at PT Money found a way to make the pain of long lines at the DMV less painful–by making a little extra money.
Jacob @ My Personal Finance Journey presents Save Money While You Travel This Spring and Summer posted at My Personal Finance Journey. This post describes a few tips to help you save money and keep you from crushing your budget during this year's travel season.
Darwin presents Extreme Early Retirement – Mainly a Myth Except for Hippies and Drifters posted at Darwin's Money. Does "Extreme Early Retirement" sound appealing to you? Of course it does! But when you read between the lines, there's often more hype than reality behind the bloggers pitching it.
Steve presents Why the Starwood Preferred Credit Card is the best rewards card in Canada posted at Grocery Alerts. In my opinion the Starwood Preferred Guest American Express Personal Card is the best credit card for Canadian frequent flyers. This is a highly desirable program because of its points-to-miles transfers offering a 5,000-mile bonus when you transfer 20,000 points.
Emily presents Missteps on the Road to Value: Cell Phone Saga posted at Evolving Personal Finance. We spent months chasing a few dollars in savings per month on our cell phone bills, but ultimately spent so much we won't be able to make up the up-front investment. Cautionary tale!
Mike presents How You Can Squeeze Fitness Into Your Life (no matter how busy you are) posted at The Financial Blogger. Are you looking to finally get in shape? Follow these steps.
Michael presents Dirty Money and Spending Behavior posted at Financial Ramblings. Looking for new ways to save money? Consider asking for new bills the next time you withdraw money at the bank. While it's well-accepted that currency denomination influences spending, there's now evidence that the appearance of your money may be even more important.
Lance presents Chase Freedom 5% Cash Back Categories For April, May and June 2013 posted at Money Life and More. Chase Freedom is one of the most awesome cash back credit cards and I use it on a regular basis. They offer 5% cash back in categories that rotate each quarter. I almost always use my Chase Freedom card whenever I make a transaction in one of these categories because 5% cash back is very hard to beat.
J$ presents You Can Always Change Where Your Money's Going posted at Budgets are Sexy. When it comes to owning a home, would you rather pay extra on your mortgage or invest in cosmetic upgrades for your personal enjoyment? Why not do both?!
Team DINKs presents A sacrifice can be a blessing in disguise posted at DINKs Finance. It took 40 days, but I made a sacrifice that changed my life. Giving up something as small as my morning breakfast stop at the local coffee shop completely changed my life…
Jen presents Looking Good Costs Money….Or Does It? posted at The Happy Homeowner. When it comes to looking good, do you really have to invest a lot of your hard-earned money? Here is why I think not….
Are you interested in hosting a future Festival of Frugality?  Click here to sign up.
The following two tabs change content below.
Sean Bryant
Sean Bryant created OneSmartDollar.com in 2011 to help pass along his knowledge of finance and economics to others. After graduating from the University of Iowa with a degree in economics he worked as a construction superintendent before jumping into the world of finance. Sean has worked on the trade desk for a commodities brokerage firm, he was a project manager for an investment research company and was a CDO analyst at a big bank. That being said he brings a good understanding of the finance field to the One Smart Dollar community. When not working Sean and he wife are avid world travelers. He enjoys spending time with his daughter Colette and dog Charlie.
Latest posts by Sean Bryant (see all)