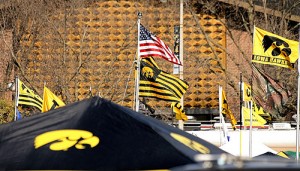 Today was a great day. It is my wife's 30th birthday and we ended up watching the Iowa Hawkeyes get a great win in double overtime again Michigan State. Overall that made it a pretty perfect day.
As of today my wife is 38 weeks pregnant so that next two weeks is just going to be a waiting game until our daughter is born. No worries, I will make sure to keep everyone updated so make sure you are following on Twitter.
Time to go take my wife out to a birthday dinner. Here are some of my favorite articles from around the personal finance blogosphere this week.
Invest With Your Future in Mind, Think Green – Pelican on Money
Middle Class Financial Mistakes – Money Smart Guides
How Budgeting is Like Potty Training – Frugal Rules
Getting Creative At The Workplace (And w/ Salaries) – Budgets Are Sexy
How to Get the Best Car Leasing Deal – Canadian Budget Binder
A Valedictorians Advice on How to Raise a Scholarship Kid – Eyes on the Dollar
Investing in Your Families Future With Insurance – The Outlier Model
Six Secrets of Financial Successful People – Payoff.com
Are you Fighting Over Money? Top 3 Money Problems in Marriage – Work Save Live
Are You a Good Tenant? Lower Your Rent! – Reach Financial Independence
12 Crazy Disney Facts You Never Knew – The Savvy Scot
Free and Simple Ways to Do Good – Modest Money
Early Retirement: Passive and Almost Passive Income – This is Common Cents
Volunteerism: Men Should be an Influence of Good – Fearless Men
Expenses You Should Budget for When Buying a Brand New House – Tackling Our Debt
Debt and Wealth Creation: A Delicate Symbiosis – Planting Our Pennies
To Pay Down or To Invest – Debts 'n Taxes
7 Things Guys Should Not Say at Work – The Free Financial Advisor
Travel Europe Like a King by Traveling Sensibly – Making Sense of Cents
Going on Vacation When in Debt – Finance Fox
Carnivals
Young and Thrifty Weekend Ramblings
Carnival of Financial Planning
Want to see your article on this list?  It's easy, add me to your weekly round-ups.
The following two tabs change content below.
Sean Bryant
Sean Bryant created OneSmartDollar.com in 2011 to help pass along his knowledge of finance and economics to others. After graduating from the University of Iowa with a degree in economics he worked as a construction superintendent before jumping into the world of finance. Sean has worked on the trade desk for a commodities brokerage firm, he was a project manager for an investment research company and was a CDO analyst at a big bank. That being said he brings a good understanding of the finance field to the One Smart Dollar community. When not working Sean and he wife are avid world travelers. He enjoys spending time with his daughter Colette and dog Charlie.
Latest posts by Sean Bryant (see all)