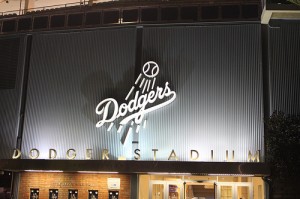 Yesterday Major League Baseball and the Los Angeles Dodgers announced that the team had been sold to former Los Angeles Laker Magic Johnson and Guggenheim Partners for a record $2 billion.  This is the largest price tag to ever be placed on a sports franchise.
Some people are going to question whether or not this is the correct valuation for a sports franchise that finished just three games above .500 last season.  Well what it came down to was revenue and Los Angeles provides plenty of it.  Over the past few weeks many sources have valued the Dodgers to be worth anywhere from $1.4 to $1.6 billion.  The one thing that really pushed the price tag up is that future television right are expected to top $3 Billion.
A dozen different MLB teams own a stake in regional sports networks proving TV is king for a lot of sports franchises.  Take a look at two MLB teams with the biggest increase in net value over the past year.  The Los Angeles Angels valuation increased to $656 million up 18% thanks to a new $2.5 billion TV deals over 17 years with Fox Sports.  The Texas Rangers valuation has increased 20% to $674 million thanks in part to a $3 billion 20 year TV deal with Fox Sports Southwest. These figures are straight from Forbes MLB Valuation rankings.
To put this sale into perspective look at the Chicago Cubs, which is one of the most storied teams in Major League Baseball.  They have their name, they have a huge market in Chicago yet when they were sold in 2009 to the Ricketts family they only went for $700 million.
The Washington Redskins were purchased in 1999 by Daniel Snyder for $750 million but are now valued to be worth $1.56 billion.  That makes them the second highest valued sports franchise.
This sale puts the end to a long battle over the well recognized franchise.  Former owner McCourt took on huge amounts of debt ($600 million) during his tenure as the Dodgers owner.  He also had a very public divorce with his wife and then to top it all off ended up in bankruptcy court with the Dodgers last year.  So what does a guy get to walk away with after all of that?  How about around $860 million.  This would put him in the top 400 of the Forbes richest americans list.
Sources: Forbes
The following two tabs change content below.
Sean Bryant
Sean Bryant created OneSmartDollar.com in 2011 to help pass along his knowledge of finance and economics to others. After graduating from the University of Iowa with a degree in economics he worked as a construction superintendent before jumping into the world of finance. Sean has worked on the trade desk for a commodities brokerage firm, he was a project manager for an investment research company and was a CDO analyst at a big bank. That being said he brings a good understanding of the finance field to the One Smart Dollar community. When not working Sean and he wife are avid world travelers. He enjoys spending time with his daughter Colette and dog Charlie.
Latest posts by Sean Bryant (see all)