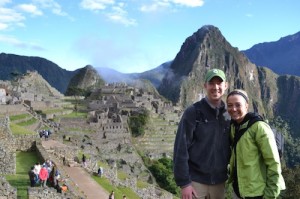 In my ideal world I would be able to visit each and every one of the 195 different countries, but let's be realistic it probably won't happen. There is a good chance I won't even come close. One of my biggest passions in life is being able to travel the world and see new places. There is so much out there, from different foods to different cultures and I want to be able to experience it all. I have traveled to the Dominican Republic where 20 percent of the country lives in severe poverty, yet I have also been to Switzerland, which is one of the most affluent nations in the world.
Being able to travel the world is something that a lot of people strive to do, but never get the chance because it can be a major financial obstacle. I like to think that I live a very frugal lifestyle. I enjoy nice things, like my home and a nice meal out every once in awhile, but I also use coupons when I shop and the only time I buy clothes is when I need them. I have always been this way and it's because I want to save plenty of money to plan that next getaway for my family.

Stop Paying to Travel and Start Traveling the World for Free
What if I told you that you could travel the world for free? You might jump for joy and say, "Count me in!" That's what I did when I found out our vacations were going to start costing next to nothing.
So now I probably have you wondering what you need to do and what's the catch. Well, first off there is no catch, all you need to do is take advantage of generous credit card sign-up bonuses. Most credit card companies run their offers in cycles. The rewards can range anywhere from 20,000 miles, all the way up to an occasional 100,000 mile offer.
I have taken advantage of 50,000 mile offers in the past to sign up for Citi American Airlines personal and business credit cards. That is 100,000 miles for doing nothing more than filling out my information. Want to know what 100,000 American Airlines miles will get you? How about two round trip tickets to Europe with 20,000 miles left over.
There are a lot of different travel reward credit cards available however some of the most popular are from Chase because of their Chase Ultimate Rewards program. With Chase Ultimate rewards you are able to transfer any points earned at a 1:1 ratio to any of the following partners.
United Airlines
Southwest Airlines
British Air­ways
Korean Air
Vir­gin Atlantic
Amtrak
Hyatt
Marriott
Priority Club
Ritz-Carlton
A lot of people really like cashing their points in with United Airlines MileagePlus because of their availability, however, I find Southwest to be the best for me. Last month, I was able to transfer points from Chase Ultimate Rewards to Southwest and booked tickets from Denver to Chicago for just 4,000 points each way per person.
You might have noticed that Hyatt is on the list of participating Balance Reward members. #FinCon13 is at the Hyatt in St Louis, so that means I will be staying at the hotel for free using my Chase Ultimate Reward points.
Earning Reward Points to Travel the World for Free
After you sign up for your credit cards, there are several different ways that you can earn additional miles. The most basic is by simply putting all of your everyday purchases on the card. The next way to maximize your rewards is by using a shopping portal to do any online shopping. My two favorites are the AAdvantage Shopping and Chase Ultimate Rewards Shopping. These allow me to earn additional miles for every dollar that I spend.
Final Thoughts
Personally, I feel that credit cards get a really bad wrap, especially from the personal finance world. Credit cards are an amazing tool for responsible borrowers. We all have purchases that we make each day, so there is no reason why we shouldn't get rewarded for them. Thanks to the rewards that my wife and I have received from our cards we have nearly 400,000 worth of points and miles just waiting to be used to travel the world.  Now, at least it's not going to cost us any cash.
Do you collect credit card miles?  What is the best trip you have taken without spending money?
The following two tabs change content below.
Sean Bryant
Sean Bryant created OneSmartDollar.com in 2011 to help pass along his knowledge of finance and economics to others. After graduating from the University of Iowa with a degree in economics he worked as a construction superintendent before jumping into the world of finance. Sean has worked on the trade desk for a commodities brokerage firm, he was a project manager for an investment research company and was a CDO analyst at a big bank. That being said he brings a good understanding of the finance field to the One Smart Dollar community. When not working Sean and he wife are avid world travelers. He enjoys spending time with his daughter Colette and dog Charlie.
Latest posts by Sean Bryant (see all)