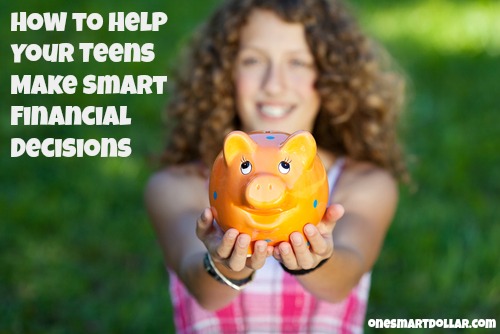 Teens are impulsive. They aren't cognitively developed enough to make quick, smart decisions like adults. Teens are notorious for their impulsive spending habits. A 2014 teen spending report from Piper Jaffray showed that teens are spending a significant amount of their money on things like clothes and food. Hanging out at the mall mixed with a little bit of peer reinforcement may be to blame, but you can help you teen take control of their spending habits with these smart tips.
Save Now
Research from MarketingVOX and Rand shows that American teens earn over $91 billion annually. That's no chump change. But many parents will be surprised to learn that the annual U.S. teen spending statistic is much higher, at $259 billion each year. This means parents are putting up the cash. Teaching teens smart savings habits and budgeting will get them on the right track. You don't want your kids to grow up and be outpacing their checks, unable to pay the bills or rent. Teach your teen these valuable lessons now, so they don't have to learn the hard way once they leave the nest. Seventeen offers some ways for teenagers to earn and save money.
Understand Reality
Getting teens to save doesn't come easy. And once that money is in savings, more often than not, teens don't quite have a solid understanding of the full cost of things. For example, if your teen saves up $10,000 for a car when they turn 16, they are likely thinking that they will be able to afford a $10,000 car. Teens don't take into account the extra costs that come with a new car like taxes, registration, license and driving test costs, gas and even repairs and maintenance. Speak with your teen about real-world costs so that they can make realistic purchases in the future.
Budget It
Outlining a budget with your teens can help them take control over their spending. Show them an example of a budget, maybe even yours if it's up to snuff, and cover all the bases, from their income sources to their spending habits. Be sure to talk about what they will be spending it on. This is a good time to talk about wants versus needs. Do they need those new jeans or do they want them? Additionally, keeping a money diary can help your teen keep track of their purchases. Teens might not be excited to track their expenses, however, many app developers have created money-managing apps, such as Money Journal, to help keep track of spending habits.
Don't Spend
Making wishlists are fun at any age. But are most of them realistic? Not usually. But, by making modest wish lists, your teen can keep track of the items they really need or want, rather than act impulsively when they are shopping. If they really want a new smartphone, have them include it on the list. That way, when they are all the mall with their friends and they want to spend their money on items they weren't even thinking about before they got there, they will think again about making an impulsive purchase and opt to put the money toward an item on their wishlist.
The following two tabs change content below.
Sean Bryant
Sean Bryant created OneSmartDollar.com in 2011 to help pass along his knowledge of finance and economics to others. After graduating from the University of Iowa with a degree in economics he worked as a construction superintendent before jumping into the world of finance. Sean has worked on the trade desk for a commodities brokerage firm, he was a project manager for an investment research company and was a CDO analyst at a big bank. That being said he brings a good understanding of the finance field to the One Smart Dollar community. When not working Sean and he wife are avid world travelers. He enjoys spending time with his daughter Colette and dog Charlie.
Latest posts by Sean Bryant (see all)