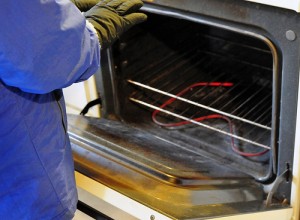 Most people just accept that their utility bills will go up (sometimes significantly) as outside temperatures go down, because of the cost of heating their homes. But that doesn't necessarily have to be the case. You don't have to choose between low heating bills and a warm home.
Take control of your home's heating efficiency by understanding where you're wasting or losing heat and what you can do about it.
Stop losing heat to your fireplace
One of the biggest sources of heat loss in a home during winter is a fireplace. It sounds counterintuitive — a fireplace's primary purpose, after all, is to provide heat — but it's true. Wood-burning fireplaces are only 5 to 10 percent efficient; 90 to 95 percent of the heat the fire produces goes right up the chimney.
What's more, an open fireplace will suck in more warm air from the room than it really needs to keep burning. That warm air that your furnace produced then goes up the chimney as well, leaving your home colder than it would otherwise be.
If you're going to use a wood-burning fireplace, keep these heating efficiency tips in mind:
When you aren't using the fireplace, close the damper and the fireplace doors. Leaving the damper open is like leaving a window wide open somewhere in the house.
Dampers don't usually seal well, and never completely. Consider adding a damper to the top of your chimney to provide a second barrier to heat loss.
Invest in a blower system that circulates warm air from the fireplace into the room.
If you aren't going to use your fireplace at all, invest in an inflatable stopper. You insert it into the flue and inflate it, creating a complete seal that stops warm air from escaping up the chimney.
Be window-wise
Windows are another source of major heat loss in winter. The following tips and tricks can help keep heat from seeping out through windows:
Hang thermal curtains and keep them closed at night. Thermal curtains provide a good barrier between a warm room and a cold yard — and vice versa during warmer months. Regular curtains (except lace) provide some measure of insulation, but they aren't as efficient as thermal curtains.
Find and seal leaks around window panes. Light a stick of incense and move it around your window. When the incense smoke moves, you've found a leak — seal it with window caulk.
Lock your windows. When you lock your windows, you're bringing their separate parts closer together, narrowing and possibly closing any gaps between them that might allow warm air to escape.
Install storm windows. This extra pane of glass provides another thermal barrier.
Seal your windows for the winter. Window shrink-wrap insulation kits cost about $5 to $10 per window and can result in big savings on your heating bill.
Stop heating an empty house
If your house is unoccupied for the better part of most weekdays, you're wasting your money by maintaining comfortable heat levels when no one is home to be comfortable. Install and use a programmable thermostat that will automatically lower the heat while everyone is at work and school and will begin warming your living space just before everyone comes home.
A programmable thermostat might sound like a complicated and expensive piece of digital technology, but you can find them for less than $30, and installing them is pretty straightforward, requiring only a few tools.
You can dramatically reduce your heating costs when you winterize your fireplace, seal window leaks and install a programmable thermostat, but there is a lot more you can do. You can find these home heating tips and more in the free downloadable ebook "The Cure for the Common Cold Room." Perusing that publication could be your first step to lower utility bills and a warmer home.
Andrew Hollandbeck is a professional writer and copy editor living and working in Indianapolis, Indiana, and has somehow managed to keep his home comfortable through decades of notoriously fickle Midwest winters.
The following two tabs change content below.
Sean Bryant
Sean Bryant created OneSmartDollar.com in 2011 to help pass along his knowledge of finance and economics to others. After graduating from the University of Iowa with a degree in economics he worked as a construction superintendent before jumping into the world of finance. Sean has worked on the trade desk for a commodities brokerage firm, he was a project manager for an investment research company and was a CDO analyst at a big bank. That being said he brings a good understanding of the finance field to the One Smart Dollar community. When not working Sean and he wife are avid world travelers. He enjoys spending time with his daughter Colette and dog Charlie.
Latest posts by Sean Bryant (see all)