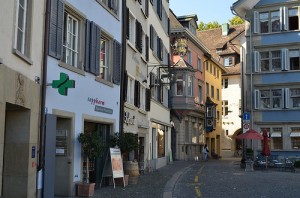 Tokyo has long been the most expensive city to live in based upon the Economist Intelligence Unit's most recent world-wide cost-of-living survey. This year that has changed because Zurich, Switzerland is now number one.
I can say from first hand experience that Zurich is an extremely expensive city to visit much less live. A few years ago my wife and I were making our way through Europe and we stopped in Zurich for a few days on our way from Germany to Italy. Those might have been a few of the hardest travel days I have had because frugality was completely thrown out the window. To try avoid that pain as much as possible one night I ordered a burger and that still set me back almost $20 USD.

Having lived in Chicago and visited New York City I know what the cost of living is like in the two most expensive cities in the United States. These are cheap compared to Zurich which is rated 70% more expensive to live in than New York City.
The top ten costliest cities included a mix of both European and Asian cities including Zurich, Tokyo, Oslo, Paris, Frankfurt, Sydney, Melbourne and Singapore. New York City was 47th on the list.
This big rise from Zurich is due largely to the Swiss Franc and the fact that goods are now more expensive to buy in Switzerland than elsewhere in the world.
The following two tabs change content below.
Sean Bryant
Sean Bryant created OneSmartDollar.com in 2011 to help pass along his knowledge of finance and economics to others. After graduating from the University of Iowa with a degree in economics he worked as a construction superintendent before jumping into the world of finance. Sean has worked on the trade desk for a commodities brokerage firm, he was a project manager for an investment research company and was a CDO analyst at a big bank. That being said he brings a good understanding of the finance field to the One Smart Dollar community. When not working Sean and he wife are avid world travelers. He enjoys spending time with his daughter Colette and dog Charlie.
Latest posts by Sean Bryant (see all)