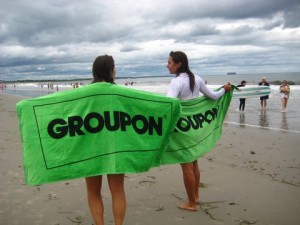 I always look for the best deal. In fact, the greatest appeal of shopping (aside from bringing home something shiny and new) is trying to see how far you can stretch your dollar. Who doesn't want to get as much as they can at the cheapest possible price.
It would shock my readers and friends: I almost never buy Groupon or Living Social deals. Why? Because although I believe in paying the best price for something, I also believe you get what you pay for. While these two ideologies might seem diametrically opposed, I've found I have never had to sacrifice one for the other….until I purchased my first Groupon.
It was winter in New York City, I'd just moved there and made friends with a girl I'd met at my office Christmas party. She was a huge Groupon fan and convinced me to purchase one for a jazzercise class we could take together. I was excited about it, until we went and the room was too crowded to dance. After the third week when I collided with a girl and got a pretty nasty bruise on my arm, I gave up. On the class, but not my friend.
I followed her into several hasty Groupon purchases that winter; for the "fantastic" eatery where we scored $50 of food for $25, and had to pay gratuity on the normal price of our bill– way more than we were willing to spend. Or another restaurant where we couldn't order the famous house specialty, because it wasn't on the menu offered to Grouponers.
I drew the line when my friend begged me to purchase a groupon for $300 dollars worth of clothes at our favorite boutique. When I went to their "Special Groupon Showroom" I found winter samples I no longer wanted because Spring had arrived. The selection had already been picked over by more spry, skinny women and I couldn't find anything to fit.
"Do you have anything else in the back?" I asked the sales girl, after being denied access to the spring showroom.
"No. This is all we have."
"Well then, what am I supposed to do? I've paid for this coupon."
"It says in the fine print we don't guarantee merchandise."
I sighed and spent the entire cab ride home arguing with the coupon company on the phone. I got my money back, but swore off mass coupon sites. Some can argue groupon sites can offer you access to things you otherwise couldn't afford like restaurants, classes or spa services. Still, many don't realize there are often fees, gratuities or special menus involved. I have another, more forgetful friend who loves to purchase Groupons for medical and spa services like teeth whitening or LASIK. It takes so long to get an appointment, she often forgets she bought the coupon and ends up wasting the money anyway. This is a worst-case scenario obviously, but you get the picture.
In my opinion, I'd rather save up than pay half price for a coupon and get half of an experience.
Have you used Groupon or another daily deals website?  How was your experience?
The following two tabs change content below.
Lauren Bowling
Lauren Bee is a freelance writer and social media specialist based in Atlanta, Georgia. When not writing for One Smart Dollar, she is hard at work blogging over at
L Bee and the Money Tree
. Lauren enjoys editing, red wine, karaoke and the color pink.
Latest posts by Lauren Bowling (see all)