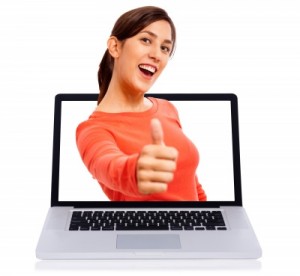 It's hard to believe that any business can keep its doors open today without having some sort of online presence. To my surprise those businesses exist and they make it work. Who would have thought?
Awhile back, I spent the day snowboarding and as I was riding the ski lift I started up a conversation with the guy who was on the lift with me. I asked him what he did for work and he said that he ran a family owned printing business. He was asking me what I did for a living and I told him that I was an online marketer and blogger.
Once we reached the top of the mountain, we continued talking about our businesses. I told him that I was really into social media marketing, because of the connection it created between the business and the consumer. He told me that his business didn't even have a website, much less social media. I was completely floored by this. How did they gain new business? No one looks in a telephone book anymore when they are looking for something, they Google it.
Being the go-getter that I aim to be, I told him that if he ever needs help setting up his business online I would be more than willing to help him out. I gave him a list of benefits that he would see. The most important one is the increased visibility that could lead to new clients.
After a 20 minute conversation, we exchanged business cards and both went our own way down the slopes. He ended up emailing me a couple weeks later saying that he had thought about what we talked about and he felt that he really needed to get his business online after putting if off for so long.
He didn't have the biggest budget, which led me to believe he still wasn't completely sold on the online idea. Lucky for him, it doesn't cost an arm and a leg to get a business website launched. I gave him the name of my web designer in case he wanted something customized. I then gave him a list of different places online where he could make his own web design for little cost.
Web Eden
The first option would be from Web Eden.  The best part about them is that they actually have a free option which will include up to 15 pages and 20 MB of storage space. Unless you purchase the standard package, you will also need to buy your domain name and email addresses for your company. They have a bunch of different web themes for you to choose from.
GoDaddy Website Builder
The second option is for the GoDaddy Website Builder. They have hundreds of themes that you can choose from.  You can easily create and change the way your website looks with their easy-to-use drag and drop feature.  They will also automatically convert the website to be mobile friendly. Normally, plans start at just $5.99 per month but right now they are offering a special of just $1.00 per month. This also includes at least one email address and the domain name. For businesses in the UK, there is GoDaddy UK.
1 & 1
The last of options is from another major web host provider 1 & 1.  With 1 & 1 you will also receive your the domain name at no additional cost along with over 100 different basic designs. One of the biggest things that makes 1 & 1 differ from the others, is that they allow you to create as many pages as you need. If you are a business that has a lot of different products or product categories then they might be cost efficient to you.
Final Thought
At the end of the day having an online presence for your business is extremely important.  It helps reach new clients/customers which in turn will help increase your bottom line.
The following two tabs change content below.
Sean Bryant
Sean Bryant created OneSmartDollar.com in 2011 to help pass along his knowledge of finance and economics to others. After graduating from the University of Iowa with a degree in economics he worked as a construction superintendent before jumping into the world of finance. Sean has worked on the trade desk for a commodities brokerage firm, he was a project manager for an investment research company and was a CDO analyst at a big bank. That being said he brings a good understanding of the finance field to the One Smart Dollar community. When not working Sean and he wife are avid world travelers. He enjoys spending time with his daughter Colette and dog Charlie.
Latest posts by Sean Bryant (see all)