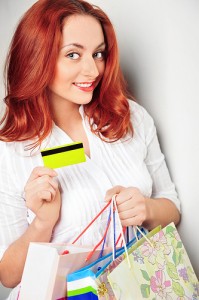 The holidays are here and that means you'll soon be hearing this question over and over: Would you like to open a store credit card and save 10 percent on your purchases?
This year, you might hear it more than ever. According to Equifax's recent National Consumer Credit Trends Report, the number of issued retail credit cards is at a 4-year high. This trend doesn't surprise me because it's easier to get retail credit cards, in general, than it is to qualify for a card from a major bank.
But before you jump at the chance for that instant discount, here are a few important things to keep in mind:
High interest rates
This is one of the biggest downsides of these cards. Many of them have high APRs. In fact, 25 percent to 30 percent isn't that unusual. So if you carry a balance, that discount that you got excited about will be a distant memory. And with compound interest, there's a real danger you could end up in credit card debt.
Your FICO score
Every time you open a credit card account, your FICO score gets dinged a little. It might only be two to five points, but if you're planning on applying for credit anytime soon, this could impact the interest rate you'll get on your new loan.
Low Credit Limits
As for your FICO score, getting a retail card might not be good for it. The reason is because retail credit cards usually have low credit limits. This can have the effect of increasing your utilization ratio (the amount of credit you've used compared to the amount of credit available), which can lower your FICO score.

Is there anything good about retail credit cards?
Since retail cards are fairly easy to get, they can be used to build—or rebuild—your credit history. Well, only if they're used responsibly, of course. They may not boost your credit as much as a card from a major bank will, but it can certainly help you get on the path to a good credit history.
But remember: You must never carry a balance with these cards. I've spoken with many folks who have got into horrible debt with retail credit cards. So if you plan to use these cards as a credit-building tool, proceed with extreme caution.
And for those who pay their credit card bills in full every month, these cards can also be a way to earn rewards in a store where you shop frequently. You might also get a heads-up email or sales flyer about upcoming sales. Or you might get an extra discount because you're a rewards cardholder.
But seriously, it's never a good idea to get any credit card without reading the terms of the card. Research the credit card online or pick up the card information at the store. That way, if you do decide to get a retail credit card, you'll know exactly what the rates, fees, and rewards are for the card.
Beverly Harzog is a credit card expert and author of Confessions of a Credit Junkie: Everything You Need to Know to Avoid the Mistakes I Made.
The following two tabs change content below.
Sean Bryant
Sean Bryant created OneSmartDollar.com in 2011 to help pass along his knowledge of finance and economics to others. After graduating from the University of Iowa with a degree in economics he worked as a construction superintendent before jumping into the world of finance. Sean has worked on the trade desk for a commodities brokerage firm, he was a project manager for an investment research company and was a CDO analyst at a big bank. That being said he brings a good understanding of the finance field to the One Smart Dollar community. When not working Sean and he wife are avid world travelers. He enjoys spending time with his daughter Colette and dog Charlie.
Latest posts by Sean Bryant (see all)