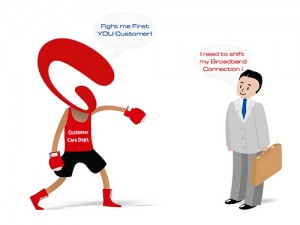 If you have just set up a new business or have been up and running for a few years and are thinking of switching to a new broadband provider, it's a good idea to do a thorough business broadband comparison before you make any decisions. Lots of providers offer packages that are aimed specifically at businesses but they may not all include the same perks or benefits, and prices can also vary quite considerably.
Here are just some of the things you should consider when you're making your comparison.
Speed
This is probably going to be a key factor for many businesses, particularly if your operating model relies heavily on a fast, efficient service with fast upload and download speeds.  An acceptable speed for business broadband is about 8Mb though you can get speeds of up to 20Mb with some providers.
Prioritization 
Some providers can prioritise your business traffic over residential traffic so when the network gets busy, you don't suffer.
Support
If something does go wrong and your broadband goes down, you need to get it up and running as quickly as possible. Find out what kind of support service is offered as part of your package. Some companies will offer support during business hours only while others may offer 24 hour support.
Networking
This means that two or more computers can share the same resources and information and is very important for some businesses. Find out if your broadband package allows for this and how many computers can access the network at any one time. Bear in mind that as your business grows you will probably need to add to that number.
VoIP services
VoIP stands for Voice over Internet Protocol and allows you to make phone calls over the internet which can be a cheaper alternative to using the landline or your mobile phone. This can be very useful if you do a lot of business overseas as it can save you quite a lot on your phone bill. Find out what software and services are available from your provider if you think this could be a useful benefit for your business.
Price
Naturally you are going to want to consider the price. Remember the cheapest package available may not necessarily be the best one, so look for value for money and service when you are making your decision.
The following two tabs change content below.
Sean Bryant
Sean Bryant created OneSmartDollar.com in 2011 to help pass along his knowledge of finance and economics to others. After graduating from the University of Iowa with a degree in economics he worked as a construction superintendent before jumping into the world of finance. Sean has worked on the trade desk for a commodities brokerage firm, he was a project manager for an investment research company and was a CDO analyst at a big bank. That being said he brings a good understanding of the finance field to the One Smart Dollar community. When not working Sean and he wife are avid world travelers. He enjoys spending time with his daughter Colette and dog Charlie.
Latest posts by Sean Bryant (see all)