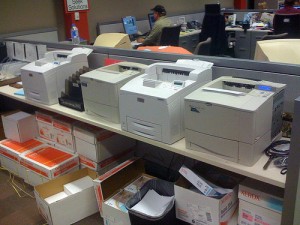 What should you look out for when you're trying to find the best printer for your office? Well, like most things it will depend very much on your specific office. If you work from home and run your business from your spare room or study, then the best office printer for you is not going to be the one that a busy print or design company would buy. Let's look at small office printers first.
If you don't do a huge amount of printing on a daily basis then you could opt for either an inkjet or a small laser printer. Inkjet printers tended to be that bit cheaper in the past but now lots of manufacturers are producing affordable laser printers for the smaller office. An inkjet printer works by shooting very small droplets of ink onto paper to create the image with a resolution of up to 1440×720 dpi or dots per inch. The disadvantage of inkjet printers is that they are generally a bit slower than laser printers and also tend to sound quite clunky and noisy. When you compare the cost per printed page between that of a laser printer, you'll find that inkjet printers are a bit more expensive to run on a daily basis. However, for printing the occasional letter or presentation most inkjet printers should be more than adequate for your home office.
A busy office with 50 or more employees will obviously have very different needs and in this case a laser printer will definitely be the better option.
Laser printers
work by harnessing static electricity which is stored in a drum and they are capable of storing several jobs at once, which makes them ideal for use in a busy office. They tend to produce crisper, clearer images and are also much faster, with some printers capable of producing over 200 pages of monochrome print per minute or more than 100 pages of colour printing per minute. In a high pressure environment, such as a busy design agency, it's essential to have a printer that can handle high volumes of work so that designers can see what their work looks like before uploading the files for their clients.
If you're looking for a laser printer for your office, consider the overall cost as well as the cost of the replacement toners, the print speed, the after care policy and of course the warranty. If something goes wrong in the first year of owning your printer, you need to know that someone will come and fix the problem as soon as possible.
The following two tabs change content below.
Sean Bryant
Sean Bryant created OneSmartDollar.com in 2011 to help pass along his knowledge of finance and economics to others. After graduating from the University of Iowa with a degree in economics he worked as a construction superintendent before jumping into the world of finance. Sean has worked on the trade desk for a commodities brokerage firm, he was a project manager for an investment research company and was a CDO analyst at a big bank. That being said he brings a good understanding of the finance field to the One Smart Dollar community. When not working Sean and his wife are avid world travelers. He enjoys spending time with his two kids and dog Charlie.
Latest posts by Sean Bryant (see all)