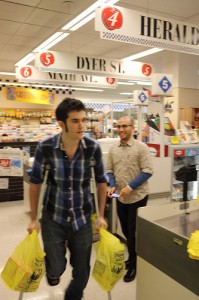 Most people do not think twice about insuring their $200,000 house.  But they hem and haw when approached on the subject of disability insurance.  But if a disability strikes, they will lose more than just their income.  Bills will need paid and repairs on that $200,000 house can go to the wayside.  The mortgage could be neglected, relationships strained, and sense of self worth destroyed.  With the probability of being disabled as high as 30% for someone in their 20's it is important to make sure to protect one's earning ability.
Group Disability Insurance
Many employers will offer a group disability plan, sometimes two.  Short term disability (STD) will pay after the employee is injured and unable to work for more than 7 days.  STD pays for either 90 or 180 days.  At this point a long term disability (LTD) plan will go into place.  Group policies generally only cover up to 60% of the worker's pre-disability income (capping out at $6,000 to $10,000 per month), and if the employer is paying for the policy, the benefit received will be taxable.
Individual Disability Insurance
Individual policies often supplement the group policy, or provide coverage for those who do not have a policy provided by their work.  Individual policies will cover up to 95% of a person's income if they are disabled.  Unlike a group policy, the benefit received from the individual policy is rarely taxable.
How it Works
Those who have a policy should make sure to read the policy before they agree to start paying premiums.  Most people assume that if they are injured or sick and unable to work, the policy will pay.  However, there are many policies that have riders allowing the insurance company to deny their claim.
Policies have a deductible that comes in the form of a waiting period.  For an individual long term policy the insured might have to be disabled for 3 or 6 months before they will start to receive benefits.  After they start to receive them, the benefits often continue until they are age 65, or return to work.  But that depends on the policy.  It is important for the insured to know the difference between own occupation coverage and any occupation coverage.  Those covered with an "own occupation" policy will continue to receive benefits even if they can return to work in any manner except the occupation they were in when the disability occurred.  So a doctor who is disabled could go to work as a teacher and still collect disability.  On the other hand, the "any occupation" coverage will only provide benefits if the insured cannot work in any capacity.
Those who do not have disability insurance should at least look into it.  Find a reputable company with good financial strength, and then apply for the maximum amount the company will allow.  After the policy is approved, the coverage can always be lowered to a point where the premiums are affordable.  At the very least, everyone should look at enough coverage to pay their basic bills, this way they will be able to stay in their home should disability occur.
I can talk first hand about the importance of having disability insurance.  A few years ago I was in a car accident as a pedestrian and it kept me out of work for a few weeks.  My wife and I had just returned from our honeymoon so I had used up much of my vacation time for the year.  Having disability insurance through my work allowed me to still get paid for the few weeks that I missed.  For people who are out of work for a long period of time it can be the difference between staying out of debt and getting yourself way over your head.
The following two tabs change content below.
Scott Sery
Scott Sery is a native to Billings, Montana. Within an hour in nearly any direction he can be found fishing, hunting, backpacking, caving, and rock or ice climbing. With an extensive knowledge of the finance and insurance world, Scott loves to write personal finance articles. When not talking money, he enjoys passing on his knowledge of the back country, or how to live sustainably. You can learn more about Scott on his website
Sery Content Development
Latest posts by Scott Sery (see all)