Start Investing For Free After This Wealthfront Review
The revolution in personal finance is already happening. You can pay with your phone by waving it in front of a sensor. You can then recharge that phone by tapping it to an ATM. All your financial data is stored in there, and we make transactions online all the time without even thinking about it. Personal investing is now visited upon by the revolution. First, it was online brokers like Ameritrade, then it was the commission free personal trading systems, and now it is the nearly commission-free brokers who manage your account. Wealthfront is one of those brokers.
Strong general AI will be hugely disruptive, but weak, focused AI has already made its mark (think Siri). Wealthfront is somewhat similar. Their software acts as a broker that will make investment decisions for you without ever needing more input. This new area of "fintech" is known as robo-advising, as there is software, not people, updating and making investments on your behalf.
This idea of computerized investment is not new (lots of big names use algorithmic trading to make profits off lightning price changes), but this software will manage your account without any need to talk to someone and its overall goal is to make money passively on the market.
There are several features Wealthfront offers, including very low maintenance fees, automation, Wealthfront tax loss harvesting, and the usual broker services, like diversifying your portfolio. This Wealthfront review will talk a little about each of these.
Sign up for Wealthfront – Get $15,000 Managed Free
Automation
First let's start with the automation. A human broker is only going to be able to advise you for a short period of time, and give your account consideration for only a few minutes a day. With Wealthfront, that process is done automatically, far more frequently than a broker ever could, and you don't even have to talk to it. The founders say "set it and forget it" about their system. Their software rebalances your portfolio to maintain your expected returns, reinvests any dividends you receive, and "harvests tax losses". All of this is done incredibly economically, because computers only eat a little bit of cheap electricity and never sleep. Their fees are a tiny 0.25% fee on any account over $10,000. Under $10k? It's free.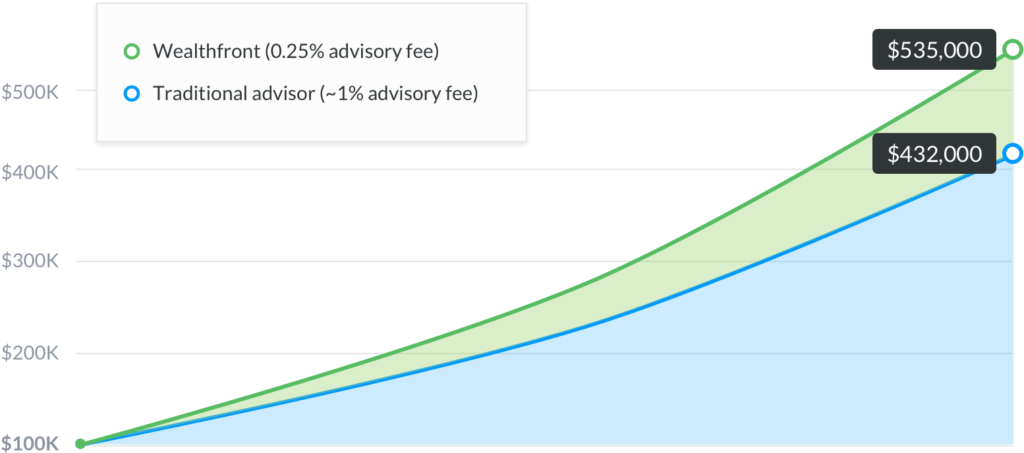 Automation will change the working landscape. I personally write software to automate processes that could have once been done by individuals. It is generally the boring tasks that are automated first, because no one wants to do them and repetition is much better executed by a computer than a human.
Wealthfront has automated the usual processes, which includes ones offered by old-school brokerages (account setup, transferring funds, etc.). However, they also offer a tax minimization service and an algorithm to optimally sell off shares, freeing up capital. Both of these take advantage of automation to avoid the high time and fee costs of manually performing these tasks every single day.
Wealthfront Tax Loss Harvesting
What about that tax loss harvesting phrase? If you are planning to invest, you know taxes and tax schemes are very important. Missing some income because of tax legislation (which, for better or worse, is extremely complex in the United States) is never a good feeling. Wealthfront even claims it could be up to 1.55% a year.
They look for certain losses and sell, giving you a small amount you can write off on your taxes. This just defers the tax liability if you still plan on selling them, but any capital available from deferred tax is still available to you to invest. This means those little amounts can keep your tax bill down and your investment capital up.
Previously this service was only available to large accounts, and brokers did this manually. Now, the personal financial revolution has affected the industry and any client with Wealthfront can benefit from their software's "tax harvesting".
This harvesting would not be possible with a regular broker simply because of fees charged and the time needed to do it. An entire team of people would need to be employed to find and execute all the necessary trades, which would certainly nullify any gains. This is another demonstration of the power of automation: something previously only for large accounts or simply impossible is now possible and offered – for free! – because computers do the grunt work.
Note that the Daily Tax Harvesting service is available to all accounts, but Tax-Optimized Direct Indexing has an account minimum of $100,000. The latter style invests directly into stocks instead of ETFs reflecting the index because legally ETFs are not allowed to pass on tax losses to investors. However, in order to cover their own trading costs, they require larger amounts of capital, hence they only offer the Direct Indexing service on accounts over $100,000.
Learn More About Wealthfront Tax Loss Harvesting
Diversification
Everyone knows that investing all of your capital into one asset is very risky. Diversification is key and Wealthfront knows this. They use ETFs to track different asset classes, both foreign and domestic. They also track some commodities. And while the company employs automation in most areas of its services, it does have a team of people choosing which ETFs are the best.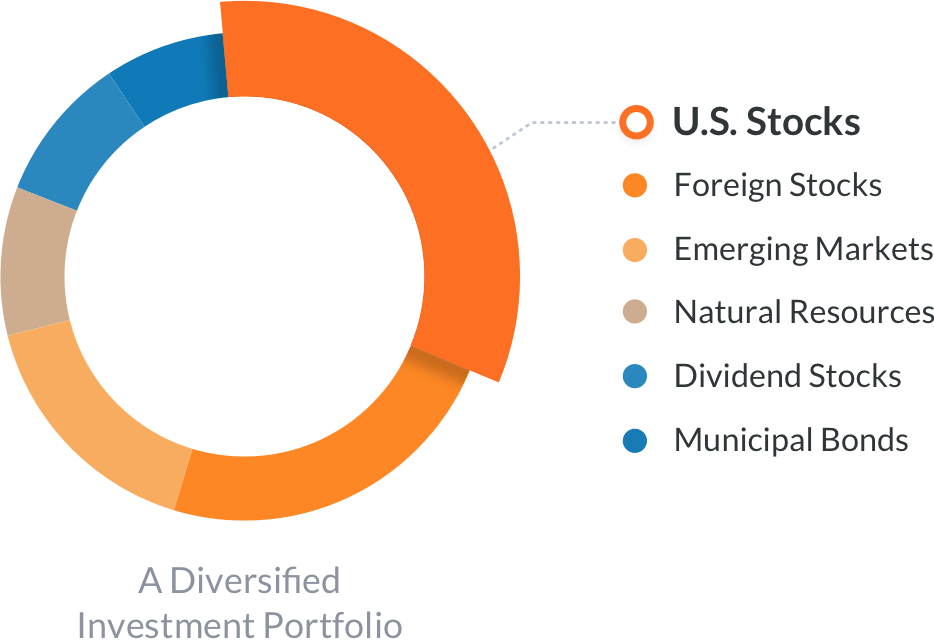 They make their decision based on costs, errors, liquidity, and policies, and they will always be transparent with you. This isn't a hidden strategy; they want you to know what they chose and why, because, after all, it is your money.
They also offer a service to divest your holdings in a single stock, aptly named the Single Stock Diversification Service. It is meant for people who receive stock as part of their salaries. Having 75% of your portfolio invested in your company may seem like an incentive to work hard, but unless you are the only employee in the company, your stock's worth is largely dependent on the countless decisions of hundreds or thousands of other people.
Holding a single stock is not a long-term strategy, even if you work for the company. Ask anyone that used to work at Enron. Or Lehman Brothers. Or any other company that suddenly collapsed. Wealthfront will make sure you are not exposed to such huge risk. Not in a single company, not in a single country, and not in a single asset class. Unfortunately, this service is only available to shareholders of a few companies, which you can check here. You can request they do it for other companies, too, though.
Types of Accounts and Funding
So, you want to get started with Wealthfront? The first thing you need to do is make sure you qualify: you must be at least 18 years old and be a permanent US resident or a citizen with a permanent address in the US. You must also have a social security number. If you do not meet these requirements, unfortunately you cannot use Wealthfront due to securities regulations.
Let's assume you have satisfied the requirements to open an account. What kind of account can you open? There are three taxable accounts (Individual, Joint, and Trust), four types of retirement accounts (traditional IRAs, 401(k) rollovers, Roth IRAs, and SEP IRAs), and they also offer 529 College Savings Plans. In order to activate the tax harvesting services, you need to have a taxable account. You may be able to concoct myriad ways to harvest tax losses, but you cannot harvest losses on accounts that don't have taxes.
Once you have decided which account is best for you, you will need to fund it. In accordance with regulations and to avoid complications, the funding must come from a US institution. You can use ACH transfers from their website, wire the money from your bank (you have to initiate it from your bank, not their website), or transfer funds from another brokerage firm.
The first two types are pretty common and self-explanatory. The third, using a system known as ACATS, allows you to transfer holdings from one brokerage to another seamlessly. You don't even need to talk to your old broker (though if you have an actual human as a broker with whom you have a relationship, you should probably tell them). The system will transfer your account to Wealthfront, and any stocks or ETFs that match the intended investment scheme will be kept, short term gains will be held for long term gains or until tax harvesting is applicable, and they will not sell anything you transfer until you give approval.
Uses of Wealthfront
Wealthfront themselves claim they act as a service to passively invest in the market. Market timing is not part of their strategy, and they state you should stay clear of Wealthfront if you want to time the market. It is also a managed service, so they will be choosing which ETFs and stocks to put your money in based off your risk assessment and their calculations. Therefore, it is not really for the people who want to manage their own investments.
The people who should use Wealthfront are the ones who want to build wealth for the long run. They are not interested in immediate gains, timing the market, trying to manage their portfolio themselves. Otherwise, head over to their website and get started investing with Wealthfront.
The Bottom Line
Wealthfront is a small company with a big impact. With the financial revolution, it is certain more of these fintech companies will pop up. But for now, Wealthfront is a great option. They offer services to help you diversify and gain from tax rules. They capitalize on their tech backgrounds to offer algorithm-based, highly efficient investment strategies that would otherwise be prohibitively expensive to execute on their minimum deposit accounts of $500.
They allow you to transfer existing accounts to their management, and they'll keep you informed of everything they do with your money. You can monitor it yourself, and their software monitors the market so you (or some expensive human broker) don't have to. In fact, even if you don't have a lot of cash, Wealthfront, and the new wave of fintech, opens up the investment world to you with incredibly low fees and easy-to-understand tools.
Investing hasn't been only for the big guys for decades, but now you don't even have to trade yourself – let Wealthfront do it for you.
Sign up for Wealthfront – Get $15,000 Managed For Free
The following two tabs change content below.
Sean Bryant
Sean Bryant created OneSmartDollar.com in 2011 to help pass along his knowledge of finance and economics to others. After graduating from the University of Iowa with a degree in economics he worked as a construction superintendent before jumping into the world of finance. Sean has worked on the trade desk for a commodities brokerage firm, he was a project manager for an investment research company and was a CDO analyst at a big bank. That being said he brings a good understanding of the finance field to the One Smart Dollar community. When not working Sean and he wife are avid world travelers. He enjoys spending time with his daughter Colette and dog Charlie.
Latest posts by Sean Bryant (see all)