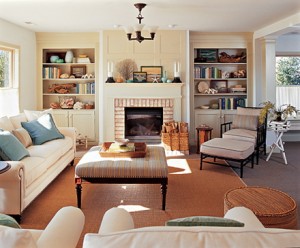 When you are trying to sell your house during a buyers market the biggest thing you can do to help yourself out is staging.  Staging can help to set your home out from all the others that are on the market.  Staging does not have to cost you a lot of money because that is just going to take away from your profits.  I have listed a few great ways that you can stage your house like a pro and not break the budget.
De-clutter and De-Personalize – One of the biggest mistakes that you can make when selling your home is to have too much stuff.  By having too much it can make the rooms feel a lot smaller and cramped.  Your goal is to make your home feel comfortable and inviting to others.  You also do not what to have a lot of personal effects out such as family photos.  You want perspective buyers to picture the home as their own and your photos can hurt that image.
Spruce up the Outside – One of the biggest turn-offs for a buyer is what their is little curb appeal to your house.  Simple things such as trimming bushes and planting flowers can make a huge different difference to the first impression that people will have.
Neutral Paint Colors – You might love dark red or aqua but if you are trying to sell your home don't have them as the paint colors on your walls.  make sure you have light neutral colors.  This can be an off white, tan, light blue or other soothing colors.  Dark colors tend to make a room look smaller and can darken up the house.  Painting will be the most budget friendly enhancement that you can do to your home.
Fix Little Things around The House – Some of the easiest things you can do yourself that will make a big difference in your home is to fix the little things yourself.  Most of us have a leaky faucet at some point.  This can easily to tightened or replaced ourselves.  If you have a cracked wall plate make sure you get that replaced.
Don't Bake Cookies Before an Open House – One things that a lot of people talk about is how you are suppose to bake cookies before you have an open house.  Yes it might make your house smell good, but more times than not people will wonder what other smell you are trying to cover up.  Never a good thing.
If you follow these simple steps you will be well on your way to selling your home in a tough buyers market.  You also will manage to not break the bank.
Image Credit
The following two tabs change content below.
Sean Bryant
Sean Bryant created OneSmartDollar.com in 2011 to help pass along his knowledge of finance and economics to others. After graduating from the University of Iowa with a degree in economics he worked as a construction superintendent before jumping into the world of finance. Sean has worked on the trade desk for a commodities brokerage firm, he was a project manager for an investment research company and was a CDO analyst at a big bank. That being said he brings a good understanding of the finance field to the One Smart Dollar community. When not working Sean and his wife are avid world travelers. He enjoys spending time with his two kids and dog Charlie.
Latest posts by Sean Bryant (see all)