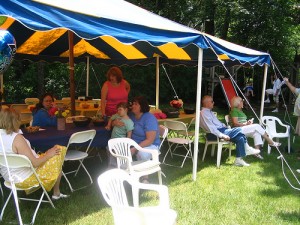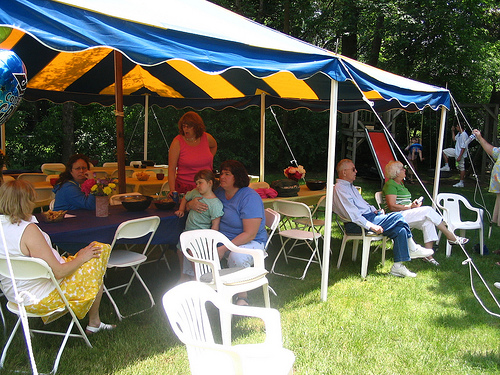 Graduation season is upon us and that means it's time to party. May and June are the biggest months for graduation parties and if you don't plan accordingly they can really affect your budget.  Lucky for you it is pretty easy to save money on a graduation party just by cutting out a few major costs.
Venue
While everyone would love to host a graduation party at home, sometimes the space in your house is just not feasible to accommodate a large group of people. This doesn't mean you will need to rush out to the local country club and rent their space for $1,000. There are several low-cost or free graduation party venue ideas.
If you don't mind taking the risk that it might rain you can head down to the local park and have it outdoors. Most public parks even have covered outdoor shelters in case of bad weather.
Another option is that most city parks also have buildings that you can rent. These will usually include full kitchens for your use. Something like this will probably cost you $150-$300.
If you would like to have a graduation pool party than you can check out your local public swimming pools. Most of them will rent out the pool after normal hours for a small fee. You just have to be willing to have your party later in the evening.
Invitations
Buying discount graduation party invitations can be a great way to save money. Depending on how many people you are planning to invite this can be the biggest cost just behind the food. Instead of going to a graphic designer or your local print shop where you are guaranteed to pay top dollar for your invitations, you could try one of these alternatives.
Try ordering your graduation invitations from Vistaprint. They have several different styles, colors and fonts that you can choose from and they will be cheaper than someone local. They will even do envelopes for you.
One of the most cost effective ways to save money on invitations would be to use Evite. 10 years ago sending a electronic invitation might have been considered tacky, but today it is practically common practice. They have several different styles of free graduation invitations to choose from and you can even add in a picture. A simple click of the mouse from the recipient will let you know if they will or will not be attending.
Decorations
When it comes to your parties decorations there is really no need to be spending that much money. You can easily make a trip to your local Dollar General or any other discount store and get plenty of things for very little cost. You can also try going to Party City because they frequently have sales going on. Make sure you look for any available Party City coupons to take with you to save even more money.
Food
Food is easily the biggest expenses that you can have when you are throwing any type of party. The best tip when it comes to the food you select is to pick items that are less expensive. Instead of purchasing a bunch of barbecue pork or a few racks of ribs select cocktail meatballs and veggies with dip.
Another great suggestion could be to make your graduation party a potluck type event. That doesn't mean you need to ask all your friends to bring food, but you can ask family members to bring an item or two with them.
Every party needs to have drinks so go with something that you can make large batches of. Make lemonade or iced tea and stay away from buying cases of pop. This will help save money and can also be a healthier option for your guests.
Graduation day is a happy time for your family. Don't let the cost of the party ruin your mood. Saving money on the graduation party is also a great way to help teach your kids the value of money before they step out on their own.
The following two tabs change content below.
Sean Bryant
Sean Bryant created OneSmartDollar.com in 2011 to help pass along his knowledge of finance and economics to others. After graduating from the University of Iowa with a degree in economics he worked as a construction superintendent before jumping into the world of finance. Sean has worked on the trade desk for a commodities brokerage firm, he was a project manager for an investment research company and was a CDO analyst at a big bank. That being said he brings a good understanding of the finance field to the One Smart Dollar community. When not working Sean and he wife are avid world travelers. He enjoys spending time with his daughter Colette and dog Charlie.
Latest posts by Sean Bryant (see all)