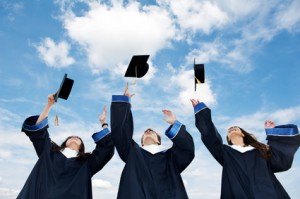 With the cost of college continuing to rise each year, you may be wondering whether the once traditional route of going to one school for all four years is the way to proceed. According to CollegeBoard, the average cost of attending a public four-year school within your state is now just over $8,800. Add in room and board of nearly $9,500 and you get a grand total of $18,300 per year. In the 2012 to 2013 school year, that figure was a little more than $17,800, which means the cost has increased by 3.2 percent in just one year.
Time to Take a Different Route?
If you're thinking of going out of state or to a private college, you'll need to have an even deeper wallet. The average total cost for students at a private college is around $40,000, and students who decide to go out of state can expect to pay $31,000. Though these figures do contain room and board, they don't account for extras such as travel costs for both parents and students to go back and forth from college.
If you had not been saving up for your student's college tuition or maybe the stock market crash took a chunk out of the money you were saving for your child's school fees, then it might be time to consider a different route than the traditional four-year investment at one institution.
Unfortunately, a large number of college students are leaving their schools with large loan debts. According to a recent Project on Student Debt study, seven out of the 10 students who graduated in 2012 did so with some type of debt, with the average being $29,400. Graduates, who are already under the stress of having to find employment in what CNN Money called a very grim job market, now also have to start off their careers in debt.

College Alternatives
Whether you're a parent or a potential student weighing your options, keep these considerations in mind before taking the plunge.
Be open-minded about the school you attend. According to the Boston Globe, parents and their kids are realizing that it's not as important as they once thought to go to a school with a "big" name, especially if that name comes with a huge out-of-state price tag.
Take some online college courses while in high school. According to U.S. News and World Report, some students have been able to earn college credits from home that have allowed them to save money on their degree. And in some cases, such as when courses are taken through a dual credit program at their high school, courses may be free. If the classes can be taken online they might be even more manageable. Check with College Online if you are looking for online college information.
Attend a community college for two years. According to the U.S. Department of Education, by enrolling in a community college for the first two years, you can save on your total outlay for higher education. Plus some states, including Virginia, will guarantee acceptance into one of their colleges if the candidate successfully completes two years in one of its community colleges.
Live at home. If possible, apply to colleges near your home so that you won't have to pay for room and board. Parents may get moans and groans from their kids who might claim that they won't be able to get the true college experience if they have to live at home. But if you show them that this is the only way they can afford to go, they will soon stop complaining.
The following two tabs change content below.
Sean Bryant
Sean Bryant created OneSmartDollar.com in 2011 to help pass along his knowledge of finance and economics to others. After graduating from the University of Iowa with a degree in economics he worked as a construction superintendent before jumping into the world of finance. Sean has worked on the trade desk for a commodities brokerage firm, he was a project manager for an investment research company and was a CDO analyst at a big bank. That being said he brings a good understanding of the finance field to the One Smart Dollar community. When not working Sean and he wife are avid world travelers. He enjoys spending time with his daughter Colette and dog Charlie.
Latest posts by Sean Bryant (see all)