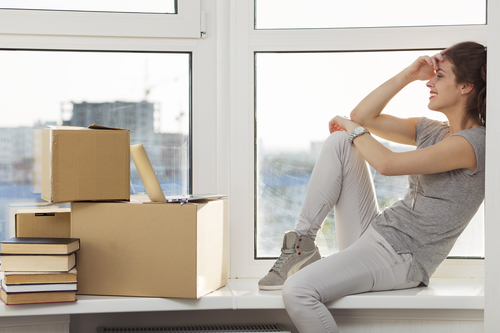 The New York City apartments that you see in TV shows may be a bit out of your price range, but that doesn't mean you need to earn big money to live in the big apple. While Monica and Rachel's spacious living or Carrie Bradshaw's midtown location are off the table for small budgets, there are plenty of ways to live, and even thrive, in a big city with a slim wallet.
1. Cut Rent with Roommates
It can be awkward living with 1-2 other adults (especially if you don't know them already), but finding a decent one-bedroom apartment can cost $2,000 or more a month. If you're on a budget, then sharing an apartment is a great options. You can use an online tool like ForRent.com to find apartments in New York City that meet your criteria. Then you can ask around and see if there are any potential roommates who are interested in the location you selected. The service will allow them to see the amenities and surrounding location, then you can sign the lease together. Living with a roommate will certainly allow you to stretch your money further.
2. Embrace a Longer Commute
It sure would be nice to live within walking distance to your Fifth Avenue office building, but the price of such an in-demand area makes that impossible (even with roommates). Embrace a longer train ride from Brooklyn, Harlem or even New Jersey. The rent is cheaper and you'll find that even the outskirts of New York are up-and-coming areas.
3. Learn to Cook
Constantly spending money on takeout will murder your budget. Eating out regularly is a bad habit no matter where you live, but there's less margin for error in New York or any other major city where most of your money is already put toward other expenses. Invest in kitchen essentials and watch some YouTube videos that cover your favorite dishes (no need to pay for cooking lessons). You'll be a master home chef in no time.
4. Nothing Wrong with $1 Slices
For those times you must have a bite outside your own kitchen, there's nothing wrong with street food. That $1 slice of pizza on the corner might be the best you've ever tried. Also, not ever stand on the sidewalk sells dirty-water hot dogs. Walk your neighborhood to get a feel for good local spots and stick to them to save a few bucks.
5. Skip the Happy Hour
Next to rent and food, nothing kills your bank account like alcohol. It's a big social temptation to enjoy a few drinks with new co-workers after hours, and that's not saying you should avoid attending happy hour entirely, but indulging in the regular brew adds up over time. Opt for the water or a tonic and lime if you want to mask the fact you're avoiding alcohol for further savings.
6. The City is Your Gym
New York is a playground — why pay an expensive gym membership when everything you need is in your apartment or at the closest park? The Big Apple is a runner's paradise and a serious schedule of body workouts like push-ups and pull-ups can keep you toned and fit. Find your favorite running trail, put a pull-up bar above your doorframe and get to work.
7. Find Deals for Entertainment
New York may be the most entertaining city in the world, but all of that fun comes at a cost. To mitigate the dollars spend on days and nights out, keep an eye on deal apps like Groupon and opt for Off-Broadway plays to catch a cheaper show. In fact, exploring off the beaten path could lead to more fun than just hitting all the tourist spots.
The beauty of all of this advice is that it applies to all major cities. Don't miss out on your dream to live in a bustling center of culture just because you're living on a budget.
The following two tabs change content below.
Sean Bryant
Sean Bryant created OneSmartDollar.com in 2011 to help pass along his knowledge of finance and economics to others. After graduating from the University of Iowa with a degree in economics he worked as a construction superintendent before jumping into the world of finance. Sean has worked on the trade desk for a commodities brokerage firm, he was a project manager for an investment research company and was a CDO analyst at a big bank. That being said he brings a good understanding of the finance field to the One Smart Dollar community. When not working Sean and he wife are avid world travelers. He enjoys spending time with his daughter Colette and dog Charlie.
Latest posts by Sean Bryant (see all)