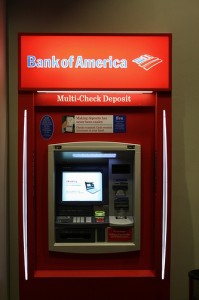 Banks provide a wonderful service.  They allow the user a convenient place to store their money, and often offer interest on the money they have there.  Just like any business, however, they are in it for the profit.  So while it may seem like the bank is doing people a favor by letting them have an account, there are numerous bank service fees that can sneak up on the client.
The easiest way to spot fees are those that are advertised with the various accounts.  They are those such as an annual fee, or membership dues at a credit union.  Much of the time these fees are waived, especially if a certain account balance is met.  The other way a bank will charge a fee is not quite so straightforward.  They might offer a "free" checking or "free" savings; however, these accounts will earn less interest than other accounts.  So the client ends up paying for their account by earning less interest than they otherwise could.
There are many fees associated with services provided.  Most people know that using an ATM that does not belong to your bank will result in a fee.  This fee is charged by your bank, and the bank that owns the ATM.  If this is a problem, there are some institutions that rebate these charges (up to a few uses per month).
Negligence in any account will usually result in a fee.  This often manifests itself as the overdraft fee.  Any time that a person withdraws too much in their account, the bank will tack on a penalty for the inconvenience.  The biggest downside to overdrawing an account is often the company trying to process the payment will often run the payment through a second time.  If the funds are not in the account, another overdraft fee will occur.  If you do make a onetime mistake, just call the bank.  I accidentally paid my credit card twice one month; a 3 minute phone call had $35 in overdraft fees refunded.
There are many ways a bank or savings institution can hit the customer with fees.  The easiest way to avoid them is to shop around.  Do some research before opening an account.  Check out GoBankingRates.com for an easy to view comparison of different institutions.  The more you know about the banks, the better decision can be made when opening an account.  If you already have an account, and are getting stuck with fees you do not want to pay, just call the customer service line and negotiate.  The easiest line to use is "I have been a customer for __ years.  I noticed I accidentally overdrew my account.  Can I get these waived this one time?"  The worst that can happen is they will say no.  The Bank of America fees were a main reason why I closed my account with them.
Have you ever closed a bank account because of the fees that they were charging?
The following two tabs change content below.
Scott Sery
Scott Sery is a native to Billings, Montana. Within an hour in nearly any direction he can be found fishing, hunting, backpacking, caving, and rock or ice climbing. With an extensive knowledge of the finance and insurance world, Scott loves to write personal finance articles. When not talking money, he enjoys passing on his knowledge of the back country, or how to live sustainably. You can learn more about Scott on his website
Sery Content Development
Latest posts by Scott Sery (see all)