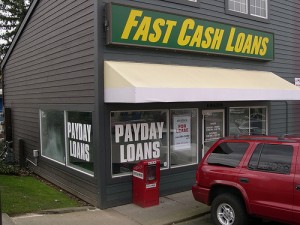 Getting any sort of loan will always include some risk. To help understand the risk of short-term loans, we are joined by Elaine McPartland from ConsolidatedCredit.org who shed some light on the subject.
Short-term loans can sound like a great idea when you're short on cash. You have an emergency, you need cash and there's no way you can wait for your next paycheck to clear. You apply for a payday loan with no credit check and instant approval, so the money is in your bank account by the next day even if you have awful credit scores. Since the money is deposited directly, you don't even have to really do anything to get the funds you need. If it sounds too good to be true, that's because it is.
The convenience short-term loans (also called payday loans) offer in securing the money you need quickly is offset on the other side with strict and often unfair repayment terms. In most cases, the money you receive includes finance charges of $30 for every $100 borrowed. In some cases, you can borrow up to $10,000, which means you'd be looking at finance charges of $3,000. Even worse, the average interest rate on a payday loan is around 782% APR, so if you don't pay off the entire debt and the finance charges by your next pay period, you end up facing ridiculous interest charges.

Another problem with short-term loans is the free access they have to your bank account. Just as the money is delivered directly to your bank account, the payment is automatically withdrawn from your bank account as well. If you don't have funds in your account to cover the full payment, you get hit with overdraft fees from your bank and extra NSF fees on the loan. So now your loan means you owe even more money to the lender.
The final downside is most short-term lenders willingness to extend you payday loan after payday loan, so you get deeper and deeper into debt. However, when you finally can't get any more loans and you look for a real debt solution, you find that most payday loans cannot be consolidated. No storefront payday lender allows you to consolidate these debts and only some online lenders allow for this option. Effectively, you're on the hook for the money you owe.
Instead of jumping on the payday treadmill, you need to start working towards a real financial solution as quickly as possible. Before you ever take out your first payday loan, you should talk to a financial counselor to identify the real issue with your finances and find a solution that will actually help you improve your outlook. This may involve debt consolidation, credit counseling, debt management, or debt settlement.
The following two tabs change content below.
Sean Bryant
Sean Bryant created OneSmartDollar.com in 2011 to help pass along his knowledge of finance and economics to others. After graduating from the University of Iowa with a degree in economics he worked as a construction superintendent before jumping into the world of finance. Sean has worked on the trade desk for a commodities brokerage firm, he was a project manager for an investment research company and was a CDO analyst at a big bank. That being said he brings a good understanding of the finance field to the One Smart Dollar community. When not working Sean and he wife are avid world travelers. He enjoys spending time with his daughter Colette and dog Charlie.
Latest posts by Sean Bryant (see all)