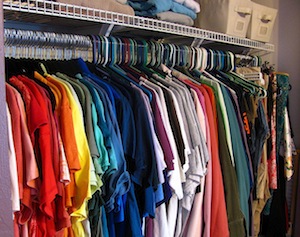 Have you ever found a $5 bill in an old jacket? Isn't that the best feeling? Now imagine if that old jacket turned into a $20 bill. Most of us probably have closets bursting at the seams with clothes, most of which we don't wear often, if, at all. Threadflip, a clothing resale website, conducted a survey of women aged 18-54 in the United States recently. The survey found an average woman has approximately 90 items worth about $1000 in her closet. Of these 90 items, about 51% of them are not worn anymore! That equates to a little over $500 worth of unused clothing just taking up prime real estate in one's closet. How cool would it be if those unused clothes turned into cold, hard cash in your hand?
Where to Sell Used Clothes
Used clothes can be sold in a variety of places with the most popular being consignment/resale shops or online. Here's a rundown of where your can sell your used clothing:
Local Consignment/Resale Shops
Consignment or resale shops are the best place to start if you have shops around you locally. Shops generally either buy your clothes up front for cash or will place your items for sale and will pay you if your clothes sell while keeping a percentage of the sale for commission. Check what each shop sells for clothing brands first. Some shops specialize in upscale designer duds while others accept a wide variety of popular brands. Most shops only accept the current fashion trends. If you clothes are older than 20 years then look for a vintage shop. Shops are seasonal so check what season shops are accepting clothing for currently. Shops will start looking for summer clothes during the late winter/early spring months. Some great consignment/resale shops with multiple locations throughout the United States include Second Time Around, Crossroads Trading, and Buffalo Exchange.
Online Consignment/Resale Shops
If you don't live near a consignment/resale shop then you have many online options for both adults and children. Online shops are becoming very popular and new ones pop up all the time. Certain sites are geared towards different brands and styles so do your research so you can maximize your profit. Like above, online shops will either offer you money up front or take a percentage of the sale when an item sells. Some popular online shops are Threadflip, Twice, and Thredup among many others. For children's clothing and accessories check out ConsignmentMommies.com for online and local shops. Selling clothes online has never been easier!
 TheStore.com is another great choice if you want to experience a unique and constantly evolving online marketplace. This site works exclusively through user-created content. For example, all of the product listings consist of pictures taken by actual users and the descriptions are provided in a similar manner. This gives you a look at some of the trendiest products available, ultimately allowing you to figure out what types of clothes are in demand. Regardless, it is a great way to both sell your old clothes and buy some new ones as well.
Ebay
Ebay is a great place to sell a wide variety of things. You probably won't get a lot of money selling your used clothing on Ebay unless you have very popular designer brands. Most clothing that sells well on Ebay is new with tags. Do your research first before posting anything on Ebay. If you have a rare designer handbag or Lilly Pulitzer dress then you might make a nice profit. When posting items on Ebay, make sure you take lots of good pictures and describe the items in detail, including any blemishes.  You could also give Craigslist a try.

Yard/Garage Sale
Who doesn't love an old fashion Yard/Garage Sale? If you're trying to sell a bunch of your old stuff around the house then you can offer up some of your clothes for sale at the same time. Yale sales most likely won't yield as much cash for your clothes than a consignment shop, but it's worth the try if you're setting up a yard sale to sell your other stuff. Hang your clothes in a favorable light and mark prices clearly to get the most customer interest.
Social Media
Perhaps all your friends have commented on your superb fashion sense. Use social media to sell your used clothing to your friends and followers on social media. There is nothing wrong in trying to make a few bucks on your used clothes on Facebook, Twitter, Pinterest, etc. Maybe you can even organize a community clothing sale and get a bunch of your friends and family to participate.
Donate
When all else fails you can always donate your used clothing to organizations such as Goodwill, Dress for Success and charity thrift shops among many other options. You may not make any cash when donating items, but you can get a tax write-off that can be beneficial if you itemize your tax deductions.
Tips for Getting the Most Bang For Your Buck
Make sure your clothes are freshly washed and ironed if needed
Repair missing buttons and stitch any small holes
Do your research and know what brands each consignment/resale shop accepts
Check the policies of each consignment/resale shop and whether they pay cash or check up front or take commission on your sales
Consignment/resale shops will also offer you store credit as well, often more value than a cash offer
If you have tags or boxes for items bring them with you
Place items you bring into shops on nice hangers or garment bags – presentation matters!
Selling used clothing that you know is just sitting in your closet is a great way to earn a few extra bucks, especially if you're trying to pay-off debt or save for a tropical vacation. Not only will your wallet get fatter, but your closet will get thinner and more organized!
The following two tabs change content below.
Katelyn is a small-town girl from Portland, Maine. She holds a BA in biochemistry and Masters in Public Health. She currently works full-time in healthcare technology and part-time as an endurance sport coach and personal trainer. In her spare time she enjoys traveling the world and her beautiful backyard. You can read more about her adventures in paying off $44,000 in student loans and exploring the world at Diariesofawanderinglobster.com.
Latest posts by Katelyn Michaud (see all)