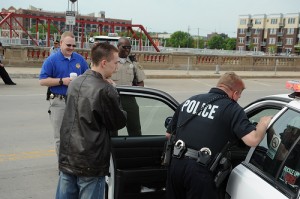 We all know that driving safely, and obeying all the traffic laws, is what we should do. But there are times when we go against our better judgment. Sometimes it means rolling through a stop sign, other times it means driving a little bit faster than the speed limit. In order to take the most control over our finances, we should understand that being pulled over not only means an inconvenient set back in your arrival time, but it could have monetary implications as well.
If you know you were wrong, you can just accept the ticket. You will then have to pay the cost of the fine, but you will save yourself time in court. If you do not think you were wrong, or you think you were wrong but should not have been punished as severely as you were, you will have to take time out of your day to go to court. If your court date happens to fall on a day that you already have off of work it will not be as big of a deal, but usually court happens right in the middle of the workday. This means using up vacation time, or going without pay to try to get out of the ticket. There is no guarantee that the ticket will even be waived.
But a day in court might be worthwhile if you consider the ongoing costs of the ticket. The relatively small up-front fine is the least of your worries. As soon as the ticket is reported to your record, your auto insurance rates will increase. Suddenly you have become more of a risk, and that means insurance companies want to offset their costs (even if it was a one-time lapse in your judgment). The ticket stays on your record for three years; this means you will pay higher premiums for 3 years after receiving the ticket.
Suppose you decide not to fight the ticket, but then you forget about it. Failure to pay could result in being turned over to collections. Being collected upon can significantly hurt your credit score.
In 2010 I was taking an afternoon to spend some time fishing. Coming down a hill I noticed my speed was getting up a little faster than I wanted. Instead of braking and slowing down quickly I was going to let myself coast. Even though nobody else was around, and I was only going 11 miles per hour over the limit, I got caught. While the citation was only $85, my insurance premiums increased by $200 per year, and will stay that way until the fall of 2013. I had to pay over $600 all because I was trying to get to the fishing hole sooner.
Speeding will get you there faster. But it will not if you get pulled over. Getting that ticket will cost you money now and even more money over the next three years. If you think you can get out of the ticket, it will cost you a day in court. The lost wages of taking a day off, and the possibility of not getting out of the ticket are too much for most people. By taking your time, obeying the speed limits, and not getting that ticket you will get there almost as fast as if you speed. Plus your fishing trip will be much more enjoyable.
Did you enjoy this article? If so sign up for our daily newsletter so you can stay on top of every personal finance topic we cover. Also check us out of Facebook, Twitter and Google+.
The following two tabs change content below.
Scott Sery
Scott Sery is a native to Billings, Montana. Within an hour in nearly any direction he can be found fishing, hunting, backpacking, caving, and rock or ice climbing. With an extensive knowledge of the finance and insurance world, Scott loves to write personal finance articles. When not talking money, he enjoys passing on his knowledge of the back country, or how to live sustainably. You can learn more about Scott on his website
Sery Content Development
Latest posts by Scott Sery (see all)