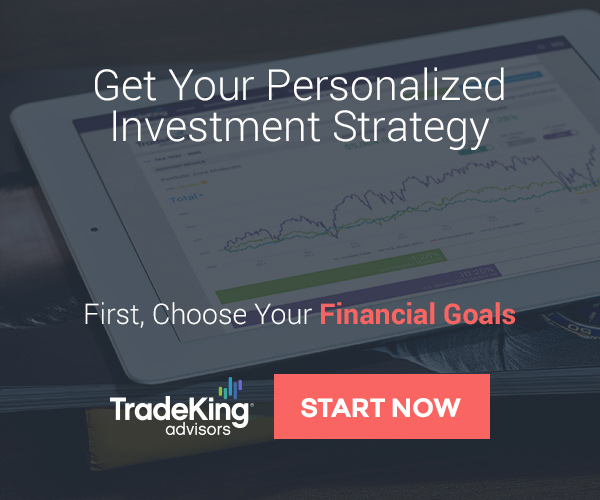 TradeKing Review
After its April 2016 acquisition by Ally Financial, discount broker TradeKing has generated a lot of buzz for its user-friendly interface and affordable fee schedule. With an increasingly crowded market for low-cost online trading platforms, TradeKing stands out as a top choice, although not without its drawbacks.
Low Fees
TradeKing truly brings the discount to discount brokerage – offering $4.95 trades on stocks and exchange-traded funds. Unfortunately, it does not offer transaction-fee-free mutual funds, but its $9.95 commission for no-load funds puts it squarely ahead of its competitors.

TradeKing also boasts a $0 minimum balance, but there's a catch. Accounts with balances lower than $2,500 and no paid trades are subject to a $50 inactivity fee. Fortunately, this is a fairly small hurdle for most investors to clear. There are also no hidden maintenance fees like those found at some other brokers. Here is TradeKing's complete list of fees.
Robust Platform
Also very impressive is the TradeKing LIVE feature, a highly customizable dashboard that features real-time streaming quotes, market updates, and portfolio metrics among other things in a visually appealing tile format. LIVE also offers access to robust charting functionality with a number of drawing tools and indicators to evaluate investment performance based on dozens of factors.
Sign up and Receive $100 in Free Trades From TradeKing
An Immersive Trading Experience
TradeKing brings the same high-quality visuals and interactive experience to its research functionality. It overlays graphs with key takeaways and offers a variety of free tools to enhance decision making including a tax calculator, a profit-and-loss calculator, and a probability manager that assesses volatility to estimate your likelihood of achieving your goals. Some features, like the peer comparison tool available for securities research, are very helpful and not always found at TradeKing's competitors. Customer service is comparably strong, with users noting short wait times, knowledgeable staff, and friendly service. Barron's gave it 4.6 out of 5 stars for customer service in its review of online brokerage firms, ranking it above many of its larger competitors.
Cheap Trades, but No Free Funds
While TradeKing offers over 10,000 mutual funds, none of them are transaction fee-free. Its base fee of $9.95 is very competitive amongst its peers, but investors have many other options for funds without transaction fees including Charles Schwab and E*Trade – which offers thousands of these funds. Similarly, TradeKing has no commission-free ETFs. For the investor planning to slowly ramp up his or her position in a given ETF, the $4.95 commission will eat into his investment with each trade.
The annual inactivity fee is also worth mentioning again here, especially for those drawn to TradeKing for its $0 account minimum requirement. Accounts that have less than $2,500 and no trades in the preceding twelve months must pay a $50 penalty once per year. While this will not deter most, it should be noted by small and less active traders.
Limitations of the Platform
Another source of complaints has been the rocky transition to TradeKing LIVE. The much more robust site still sits in a separate area as the kinks are worked out and as it moves to become the default TradeKing experience. LIVE is unavailable on the company's iPhone and Android apps, depriving users of the ability to use its excellent features on the go. The desktop version of TradeKing Live is far superior to the web-based version and unfortunately is available only on Windows. While Mac users are used to this challenge by now, it still requires an inconvenient workaround to fully experience the platform. The site's sign-up experience also leaves something to be desired, forcing users to set up a full account with their personal information – including Social Security number – before checking it out at all. Other brokers allow you to browse their offerings before signing up, but TradeKing frustratingly makes you complete a multistep process beforehand.
A Standout Amongst Many
Since launching in 2005, TradeKing has seen its competition in the low-cost online broker space skyrocket, but twelve years later, the company still maintains an edge in key respects. It boasts the lowest prices across the board among the larger firms in its field and has developed a sleek, impressive, and user-friendly trading tool that beats out many similar offerings online. TradeKing manages to offer superior service and features without higher prices.
The Verdict
Despite its lack of funds without transaction fees and inactivity charge, TradeKing truly stands out for its great value. TradeKing LIVE is regularly updated and continuously sees improvements and additions to its core offerings. One can expect that with its acquisition by Ally, its features will only continue to improve and expand. Among the myriad options online for managing and investing your money, TradeKing's rock-bottom prices and top-notch platform make it a solid bet for cost-conscious investors.
The following two tabs change content below.
Luke Orlando
Luke Orlando is a management consultant from Houston who writes about personal finance, international business, and U.S. politics. He is a graduate of the University of Texas, a mentor with Big Brothers, Big Sisters, and a travel fanatic who has visited 25 countries in the last few years. Luke is passionate about the decline of objective and data-driven political argument, enhancing economic mobility in the United States, and all-you-can-eat Brazilian steakhouses. He can be reached at lukecorlando (at) yahoo.com Disclosure: All opinions expressed here are my own and do not represent those of my company or clients in any way.
Latest posts by Luke Orlando (see all)