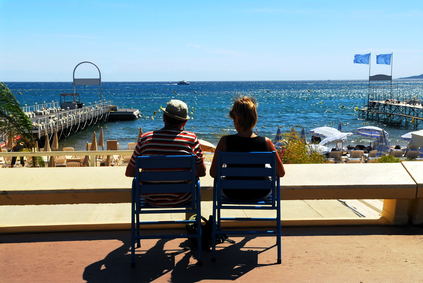 As many as 3.3 million baby boomers (out of 78 million) plan to retire abroad, according to Travel Market Report. They cite the lower cost of living overseas as the top reason for their choice. Meanwhile, David Vequist, founder of the Center for Medical Tourism Research in San Antonio, Texas, says boomers can retire comfortably in Belize for less than $1,500 a month. Whether you're planning a retirement overseas for financial reasons or simply because you want to enjoy a seaside lifestyle, simplify the transition with the following tips:
Be App-Savvy
If you plan to travel from your new home base, pick up an XE Currency Converter to convert currency on the go. Other apps to consider:
The ATM Hunter app pinpoints the nearest ATM
Pocket Money helps you budget the day-to-day expenses of travel and living abroad
My Life Record holds electronic copies of important documents, including medical records
MediBabble translates medical terms and phrases in five different languages
Get Health Care
Health care stops many retirees from moving abroad. While you can't use Medicare overseas, you can join most national health care systems. Other ideas:
Build a Portable Career
Unless you have your heart set on complete and total retirement, take on some side work to make a little extra money. A portable career offers flexibility and control over your lifestyle and how many hours you work. Engage in something that's both lucrative and matches your personal interests, such as:
Offer tours to English-speaking tourists and retirees
Teach ESL
Do some freelance writing about retiring abroad
Work seasonally at a resort
Keep an Account Open in the U.S.
If you ever plan to return to the U.S., keep a bank account open here. If anything happens to you while living abroad, family or friends in the U.S. could access your account, transfer money and arrange for necessary services.
Some countries don't allow expats to open local accounts, making it difficult to manage your finances. Instead, retirees make a large deposit into their domestic bank account and have money wired to their new home country a few times a year. Ensure you have enough money in the bank to travel, get back to the U.S. for emergencies and pay for health care. To build this fund, consider asking for payout from your pension or retirement funds. Or, if you receive regular payments from an annuity or structured settlement, you may be able to sell your future payments to a company like J.G. Wentworth for a lump sum of cash now.
Pay Your Taxes
If you have a bank account open in another country, most U.S. expats will need to file a Report of Foreign Bank and Financial Accounts (FBAR) with the U.S. Treasury every year. It's a mandatory filing if your foreign financial account exceeds $10,000 on any given day during the calendar year. Other taxes and fees may also be applicable depending on your retirement situation.
The following two tabs change content below.
Sean Bryant
Sean Bryant created OneSmartDollar.com in 2011 to help pass along his knowledge of finance and economics to others. After graduating from the University of Iowa with a degree in economics he worked as a construction superintendent before jumping into the world of finance. Sean has worked on the trade desk for a commodities brokerage firm, he was a project manager for an investment research company and was a CDO analyst at a big bank. That being said he brings a good understanding of the finance field to the One Smart Dollar community. When not working Sean and he wife are avid world travelers. He enjoys spending time with his daughter Colette and dog Charlie.
Latest posts by Sean Bryant (see all)