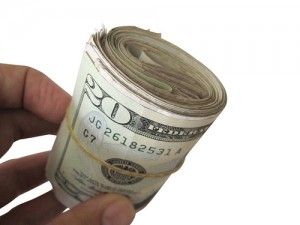 You would be hard pressed to find someone who does not want to earn more money.  While many people make enough to pay for their expenses, they still might want to increase their lifestyle, save more, give more to charity, or simply have the satisfaction that they earn more money.  But as we all know, the more money that comes in, the more money the government will take from us.  So is it worthwhile to work harder to bring in more money?
In the United States the tax system is tiered.  Those who earn very little will not only pay a small amount of dollars, they will also pay a small percentage of their income.  Those who are the higher earners will pay a much larger amount, and a larger percentage of their income.  The exception is of course the extremely wealthy who are able to take advantage of many tax shelters and reduce the percent of their income paid in taxes.  If you want to know the exact numbers, here is an easy to read tax table, and an extremely difficult to read one from the IRS.
So how does that fare in the real world in 2012?  Suppose you are single and you earn exactly $25,000 and make no qualified plan contributions.  You will receive the standard deduction of $5,950 leaving you with a taxable income of $19,050.  You will end up paying $2,422 in taxes, or about 9.7% of your $25,000 earnings.  Now if you want to increase your wages and make more money this year, you take on an extra job and earn exactly $25,000 more, you will have $50,000 to report.  Take off the standard deduction and your taxable income is $44,050.  You will pay $7,042 in taxes, or about 14.1% of your earnings.  These are claiming 0 personal exemptions.  You can do calculations with your own income here.
In our example income doubled, and taxes increased barely over 4% (the calculation does not take into account state or local taxes; only federal).  By earning twice as much, take home pay went from $22,578 to $42,958.  While it would be nice to make twice as much, and take home twice as much, that is not the way our system works.  You have to decide if the increased taxes owed are worthwhile.
Earning more money is great.  But too many people get caught up with the fact that the more money they bring home, the more they will have to pay in taxes.  The bottom line is that when you bring home more money, you have more money.   The key is determining how much harder you want to work, and how much that extra work is worth to you.  By increasing your take home pay you can save more, give more away, and overall feel good knowing that you worked hard, and you now have extra money in your pocket to do with whatever you would like.
The following two tabs change content below.
Scott Sery
Scott Sery is a native to Billings, Montana. Within an hour in nearly any direction he can be found fishing, hunting, backpacking, caving, and rock or ice climbing. With an extensive knowledge of the finance and insurance world, Scott loves to write personal finance articles. When not talking money, he enjoys passing on his knowledge of the back country, or how to live sustainably. You can learn more about Scott on his website
Sery Content Development
Latest posts by Scott Sery (see all)