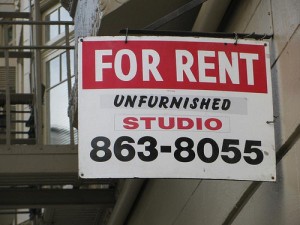 According to real estate data firm, Reis, the rental market is the narrowest it is been in more than 10 years. In 2009 8% of all apartments in the United States were vacant and now at the end of 2011 only 5.2% of the apartments are vacant. People are looking more towards renting these days over buying.  Given the current state of the housing marketing and the lack of availability of lending, many are not able to or are nervous about purchasing a home. This translates to a higher demand for rentals in housing and apartment, which means that average rent rates are increasing.
If you are looking to move into a new rental house or apartment, you need to do your research in order to best the best deal you can. Start by figuring out the qualities that make one rental less expensive than others within a particular area.  Throughout the housing crisis, new constructions have been limited, so an apartment or house that is a new construction will come will a top dollar price because not many new buildings have been built as of late. Although you may love some of the features of the new construction apartments, it will be more likely that you will find a better deal looking at older construction units or houses.

If you are looking at a building that has multiple units, you need to be aware that rental rates as well as amenities rates can vary from unit to unit within the same building.  If you are looking to spend less money, try to search for apartments on lower numbered floors, because these usually cost less than the apartments on higher floors. If an apartment has an obstructed view, or is a corner unit that has some awkward angels, it may also cost less than others within the same building.
When looking at apartments, be sure to ask questions. If you are being shown a particular unit that you are interested in, ask the rental agent or real estate agent if there are less expensive units that are similar within the same building or area. You never know what kind of great deal you can find, just by asking. The demand for renting single-family homes is high, which makes the market competitive for these properties and they come attached with high prices.  Some real estate agents have reported that the monthly rental payments for single-family homes are higher than a monthly mortgage payment would be on a similar property.
If you are looking to rent a single-family home, and you do not have children, look to rent in an area that is not within the best school districts. The rent will be significantly cheaper in these areas. Also, living on a busier street with has street noise will also be cheaper than a quiet neighborhood, Make sure you assess, the things you can live with and cannot live without. A little street noise may not bother a younger group of renters or couple without children, and will save you money.  Another thing to note when looking to rent is that multiple family homes will be cheaper than single-family homes.
A few weeks back we here at onesmartdollar.com presented you with an article about how many homeowners who are looking to sell their houses are choosing to rent them out instead. Check out your local real estate listings and contact realtors about homes that are for sale, because if they have been on the market for a while, homeowners may be open to renting them. A friend of mine did this and now is renting a beautiful home at a great price. The owners of the homes may be open to renting their home, but it just was not presented as an option to them. You will never know if you can get an amazing deal and house for rent unless you ask.
Once you have found a house or unit that you are interested in, try to negotiate the rental rate. Many apartments and homes include certain or all utilities with the rental price, if a unit does not do so, present the landlord, real estate agent or rental agent with data and comparable prices from similar properties in the area. Show them what other people who are renting are getting for their money, you may get some money knocked off the price of your rent or even something included within the price, just by trying to negotiate. If you feel that you are a good tenant for a property, give your landlord references from your previous addresses and or your credit history, as a bargaining chip to rent negotiations. Show that you have been a reliable, responsible tenant you pays their bills on time and takes care of the property and you could talk your way into a lower price.
Given the current housing climate with rentals, make sure you do your research before you decide to rent a unit. Look at multiple properties in different areas and compare prices. Make a list of things within a living space that you can live with or without. Giving up things such as stainless steel appliances or a washer and dryer within a unit will lower the price. Be sure to try to negotiate the price of your rent and ask questions in order to get the best deal you possibly can.
The following two tabs change content below.
Sean Bryant
Sean Bryant created OneSmartDollar.com in 2011 to help pass along his knowledge of finance and economics to others. After graduating from the University of Iowa with a degree in economics he worked as a construction superintendent before jumping into the world of finance. Sean has worked on the trade desk for a commodities brokerage firm, he was a project manager for an investment research company and was a CDO analyst at a big bank. That being said he brings a good understanding of the finance field to the One Smart Dollar community. When not working Sean and he wife are avid world travelers. He enjoys spending time with his daughter Colette and dog Charlie.
Latest posts by Sean Bryant (see all)