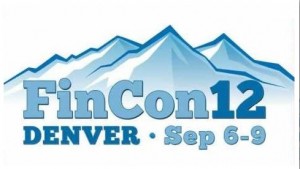 #FinCon12 is officially in the books and things could not have gone any better. I was lucky enough to be able to meet a lot of the amazing bloggers that I have been interacting with over the past few months. It was nice to finally put a face to a URL or twitter handle.
As I sat in the breakout sessions and talked with other bloggers this weekend, I realized that the future of the personal finance blogosphere has a lot of upside. There are a lot of different personalities and opinions on all topics. As a personal finance writer, it gives our readers a dual perspective and I feel that is important.
I have been blogging for quite a few years now, so I have a decent amount of experience. Every breakout session that I attended I managed to take something away to help myself and my blogs grow. To me, that is amazing and makes the whole experience worth it.
There were two speeches that really stood out to me from two of my favorite personal finance writers J.D. Roth and Donna Freedman. Donna led a panel that discussed how we need to write with a voice. All of us have our own personalities and we need to express those in our writing. Our opinions are how our readers can truly connect with us. Without a true voice, readers are going to get bored and move on to the next blog.
In the closing keynote, J.D. hit on something that was a little hard for me to hear, but I am very grateful I did. He told us that we need to start writing for our readers and stop worrying about the search engines. I am an SEO lover and I have written almost all of my posts with Google in mind. I think because of this, I have lost focus on why I really write this blog in the first place. I want to be able to help people with their finances based off my professional, educational and personal experiences. With great posts come a great search engine following.
With all of that in mind, here are some of my favorite personal finance posts last week. Plus, some of the carnivals that mentioned One Smart Dollar.
Can You Shop at Target and Stay on a Budget?  I Can't – Daily Money Shot
How Two Men Helped me Redefine Myself – Blonde on a Budget
How to Make Swiffer Wet Jet Refills – Three Thrifty Guys
10 Strategies to Boost your Income and Help you Get out of Debt Faster – Careful Cents
Tragedy Strikes Close to Home: Why You Need Life Insurance – Work Save Live
What Kind of Spender Are You? – Canadian Budget Binder
Innovative Marketing Methods to Increase Income Streams – Finance Fox
6 Ways to Avoid Blogger Burnout – Modest Money
Banking Industry is a Joke – Money Smart Guides
Why Most People Don't Pursue Side Income – Young Adult Money
So You Want to Manage Your Own Money – The Free Financial Advisor
The Cost of Pet Ownership – See Debt Run
Do's and Don'ts on Saving for Travel – Club Thrifty
Being Creative Because You Have to Be – Debts and Taxes
Why You Should Open a Savings Account for Your Child – Money Bulldog
How Interest Rates Can Affect My Savings – Making Sense of Cents
Unemployment Up, Income Down, Better off?  Yes – Blue Pelican Loans
Why You Should Use Coupons for Grocery Shopping – Ready for Zero
How to Be Cultured (On a Budget) – Thirty Six Months
How to Stop Being a Pushover – Add Vodka
Carnivals
Young and Thrifty Weekend Ramblings
Canadian Personal Finance Happy Hour
 Carnival of Financial Planning
Carnival of Personal Finance
Carnival of Money Pros
The following two tabs change content below.
Sean Bryant
Sean Bryant created OneSmartDollar.com in 2011 to help pass along his knowledge of finance and economics to others. After graduating from the University of Iowa with a degree in economics he worked as a construction superintendent before jumping into the world of finance. Sean has worked on the trade desk for a commodities brokerage firm, he was a project manager for an investment research company and was a CDO analyst at a big bank. That being said he brings a good understanding of the finance field to the One Smart Dollar community. When not working Sean and his wife are avid world travelers. He enjoys spending time with his two kids and dog Charlie.
Latest posts by Sean Bryant (see all)