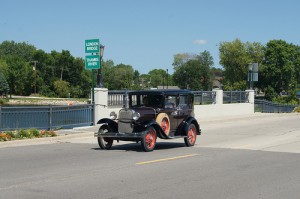 In regards to sales, the auto industry is reporting big gains over 2012. With the economic recovery comes higher level of consumer confidence and more buyers that are ready to make the leap and purchase a new car.
With the increase in auto sales comes the need to find the best car loan. This is particularly important since buying a car is typically the second largest purchase a consumer makes, after a home.
Not all auto loans are created equal, and the loan that a buyer selects may lead to long-term difficulties in terms of how much interest is paid throughout the course of the loan. The following are tips that potential automobile owners can utilize to make smart purchasing decisions:
Don't Make a One-Stop Shop Decision
One of the biggest mistakes many people make is heading to a dealership and relying on the dealer's financial institution to obtain backing. Not only are you putting yourself in a position to pay higher interest rates, but you are also at a disadvantage when negotiating. Instead, begin shopping for car loans prior to going to a dealer. This way, you will know your options and budget so you can avoid being upsold by a salesperson. It is also important to remember that dealers have the legal option to tack on a higher interest rate to the loan in order to increase their own profit. To begin the browsing process, partner with sites like Auto Credit Express that will help you find the optimal auto loan despite any previous bad credit.
Clean Up Your Credit
Know your credit score and pull a copy of your credit report before you begin shopping for a car loan. If there are inconsistencies or inaccuracies on your credit report, you may have difficulty obtaining the loan that you need.  Make sure to take steps to have them removed. Otherwise, you could pay a higher interest rate for something that could have been remedied. If your credit score is less than perfect, at least you'll know what you're up against. You can find your credit score from places like FreeCreditReport.com.
Look for Red Flags
Often when consumers make the decision to purchase a new car, they get lost in the excitement, and fail to read the fine print. When a buyer signs an agreement, it's something that will affect their life for years to come. Don't just skim the paperwork onsite—instead, take it home, and read it carefully on your own time. A few key phrases that should be a red flag include:
Variable interest rates
Prepayment penalties
Mandatory binding arbitration
Don't Fall Prey to Conditional Financing
Conditional financing is one of the biggest complaints of car buyers. Conditional financing is essentially when dealers create a scenario that allows the buyer to take home a new car then and there without definite financing in place. It's easy to get swept up in the excitement of driving a new car off the lot, and buyers leave without having finalized the terms of the loan. This means the dealer has the option to contact the buyer at a later date and say that there's been a problem with financing. The buyer is then left with the option to either return the vehicle and pay wear and tear fees, or accept the "new" finance terms, which can result in a significantly higher interest rate. Instead, buyers should never take a car off the lot without finalized financing.
Explore the Options
When shopping for car financing, consumers are able to take advantage of a wider array of options than was available just a few years ago. For example, smaller banks and credit unions have grown in popularity, and many of them are able to offer very competitive financing rates over the larger institutions. It's also possible for consumers to find online financing from various banks.
Above all, when searching for the perfect car loan, take the time to do your research. Over the course of a loan period, you can save yourself thousands of dollars by finding a loan that's going to meet your budget. Consumers have more options than ever before to compare loan terms, and with the auto market on the upswing, it's a great time to take advantage of the tremendous opportunities.
The following two tabs change content below.
Sean Bryant
Sean Bryant created OneSmartDollar.com in 2011 to help pass along his knowledge of finance and economics to others. After graduating from the University of Iowa with a degree in economics he worked as a construction superintendent before jumping into the world of finance. Sean has worked on the trade desk for a commodities brokerage firm, he was a project manager for an investment research company and was a CDO analyst at a big bank. That being said he brings a good understanding of the finance field to the One Smart Dollar community. When not working Sean and he wife are avid world travelers. He enjoys spending time with his daughter Colette and dog Charlie.
Latest posts by Sean Bryant (see all)