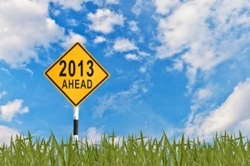 New Year's Day is the beginning of the end for most people. Everyone sets out with high expectations with what they are planning to change in the upcoming year. Let's be honest with ourselves, most of us will break our New Year's resolution by the time we get to February. Instead of making a New Years resolution, set a New Year's goal. It's less definite and ultimately leaves you feeling better about your accomplishments throughout more of the year, rather than the first few months.
When you make a New Year's resolution to eat a little bit healthier and you decide to eat a bunch of fried food for the Super Bowl, you have already ruined the goal for the year. Instead, you can set a goal to eat healthier and lose ten pounds over the course of the entire year. One slip up does not change the overall goal.
If you are looking to better handle your finances in 2013, set small goals and go from there. Start by making a budget to ensure you are not spending more than your income. After you have a budget in mind, you can work towards other goals such as paying off your car or credit cards.
To help you get started on 2013, I have joined a few other bloggers to give one lucky reader a $100 Amazon gift card or you can select cash.
a Rafflecopter giveaway
If you are a blogger and would like to join a future giveaway click here.
The following two tabs change content below.
Sean Bryant
Sean Bryant created OneSmartDollar.com in 2011 to help pass along his knowledge of finance and economics to others. After graduating from the University of Iowa with a degree in economics he worked as a construction superintendent before jumping into the world of finance. Sean has worked on the trade desk for a commodities brokerage firm, he was a project manager for an investment research company and was a CDO analyst at a big bank. That being said he brings a good understanding of the finance field to the One Smart Dollar community. When not working Sean and he wife are avid world travelers. He enjoys spending time with his daughter Colette and dog Charlie.
Latest posts by Sean Bryant (see all)