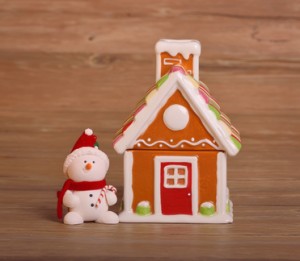 Bake cookies, wrap presents and sell a house. As part of your holiday to-do list, selling a house looks out of place, but real estate inventory is traditionally low during the holidays. This gives the motivated seller an advantage that they simply can't match during any other time of the year.
Online Shopping
Between visiting loved ones and singing along to holiday tunes, prospective buyers are looking at homes online, and before a buyer will step foot in your home, your online ad needs to be enticing. If it has been up for some time, update it with new pictures or rewrite your descriptions. Hire a professional photographer, and consider putting up holiday photos. If your home looks beautiful lit with holiday lights, take a picture of it when the weather is just right, and you will have buyers clamoring for the chance to see its storybook beauty.
Perfectly Presented
Showcasing a home during the holidays is easier than it sounds. A thoughtfully decorated home will attract buyers and make them feel nostalgic. The more heartstrings, you can pull the better. Check out Pinterest for easy and creative decorating ideas. Although decorations can work to your advantage, it's recommended to steer clear of ones that are overtly religious. Stick to winter and seasonal themes, instead.
Ready to Sell
If your home isn't in tip-top shape, your buyers may demand that you complete certain repairs before they finalize the deal. If you don't want these repairs to slow down the selling process, have them completed before you even list the home. The following repairs are essential to tackle:
Entryways – First impressions are everything. In addition to having a tidy entryway rather than a pile of grubby shoes at the door, make sure that the screen doors are in working order and tighten up your hinges so the doors don't sag.
Paint – A new coat of paint will spruce up your entire house. Repaint any dirty or chipped walls and give your baseboards a facelift with a scrub and a paint job as well.
Leaks – No one wants to tour a home to the sound of a dripping faucet. Tighten up any leaky faucets and repair any leaking pipes. Keep in mind, while repairing, that moisture can attract termites. Check out termites at Orkin.com to see how to detect these invasive little creatures. If the drips have damaged the flooring, consider replacing that as well. For just a few hundred dollars, new kitchen and bathroom flooring can make a huge difference.
Smells – If you've been smoking in your home, quit. The smell could be a deal breaker. Cooking smells and other odors aren't appealing either. Change the air filter on the furnace, leave the windows open for a few days and use a layer of primer when painting to get rid of smells.
Relist in January
If you decide that keeping your home clean and ready for showings is just too much through the holiday season, take it off the market and relist it in January. The inventory of houses is often as low in January as it is during the holiday months, and the tight market gives sellers an advantage.
The following two tabs change content below.
Sean Bryant
Sean Bryant created OneSmartDollar.com in 2011 to help pass along his knowledge of finance and economics to others. After graduating from the University of Iowa with a degree in economics he worked as a construction superintendent before jumping into the world of finance. Sean has worked on the trade desk for a commodities brokerage firm, he was a project manager for an investment research company and was a CDO analyst at a big bank. That being said he brings a good understanding of the finance field to the One Smart Dollar community. When not working Sean and he wife are avid world travelers. He enjoys spending time with his daughter Colette and dog Charlie.
Latest posts by Sean Bryant (see all)