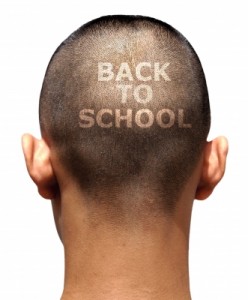 Most kids hate when the summer comes to an end, for them it means that the fun is over and it's time to go back to school. Parents can also dislike this time of year because if they don't plan things out, back to school shopping can end up being a real budget buster.
While I might not have been a big fan of going back to school when I was a kid, I always loved going school shopping with my mom. Back to school shopping always  meant I would make out with new shoes, clothes and anything else I could squeeze out of her. The total expense could have been a lot harder on the wallet if the shopping had not taken place around well-timed store sales and the yearly tax-free weekend.
Below are a few tips that will help to cut down the expense of back to school shopping:
1.  Take Advantage of End of Summer Sales
As the summer comes to an end most major retailers will begin marking down all of their summer clothes to make room for fall things. They will also run back to school sales. For example, right now American Eagle has all jeans marked at $29.99 or below. To make that sale even better, American Eagle recently had a coupon valid for 25 percent off your total purchase.
The same thing goes for school shoes. I always wanted a brand new pair of shoes to show off on the playground. Come on, I know I wasn't the only one. Most shoes store like Foot Locker or Champ Sports will be running sales to get customers to shop. Many times you can find coupon codes that allow you to save 10 percent, or some other amount, and also receive free shipping when you spend so much.
2.  See What Their Friends Have
If you are not a back to school sale shopper then I suggest you wait until after the first week of school is over. Your child's taste of clothes and other school supplies can easily change as soon as they see what their friends have. Just because they might have thought their backpack was the coolest thing ever before school started, it might be yesterday's news by the first weekend.
3.  School Shopping is More Than Just Clothes and Supplies
While most of us associate back to school shopping with school supplies and new clothes, this is also the perfect time to take your child to the eye doctor and get them a new pair of glasses or contacts. My wife just updated her glasses after about 5 years of not doing it. She has pretty bad vision, so she can either get really thick lenses or we can pay a little extra for better quality, thinner lenses.
When it comes to glasses, you have a lot of different buying options to choose from. You can head to a place like Lenscrafters in your local mall or you can head online and purchase from a source like Glasses.com. I am a big fan of buying things online. Not only do you get the same great deals as you can find in stores, but you don't have to deal with pushy sales people trying to up-sell you everything in the store.
4.  When It Comes to School Supplies, Buy From the List and Buy Early
Most teachers will give your child a supplies list for the upcoming year. They give you the list for a reason and that is because those are the items that are going to be used throughout the year. Don't venture off and purchase other items because they might look pretty. These things will often never be used and will just become a waste of money.
You also need to start doing your shopping early. Drug Stores (Walgreens, CVS, etc.) and office supply stores (Staples, Office Depot, etc.) always run different sales. They won't all be at the same time, so you have to be flexible. One weekend, Staples might be running a sale on notebooks for $0.10 each and the next week you might be able to buy crayons at Walgreens for $0.25. If you want to get the best deals, start shopping as soon as the weekly flyers start advertising sales and don't try and get it done at one time.
The Bottom Line
Each year it seems like everything is getting a little bit more expensive. If you shop around and shop early, then you are going to be able to find the best deals and save the most money. If there are a pair of shoes that your child wants but they are just too much for the budget, look and see if the store might have a coupon available to make them a little bit more practical.
The following two tabs change content below.
Sean Bryant
Sean Bryant created OneSmartDollar.com in 2011 to help pass along his knowledge of finance and economics to others. After graduating from the University of Iowa with a degree in economics he worked as a construction superintendent before jumping into the world of finance. Sean has worked on the trade desk for a commodities brokerage firm, he was a project manager for an investment research company and was a CDO analyst at a big bank. That being said he brings a good understanding of the finance field to the One Smart Dollar community. When not working Sean and his wife are avid world travelers. He enjoys spending time with his two kids and dog Charlie.
Latest posts by Sean Bryant (see all)