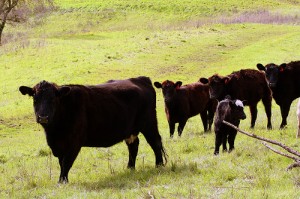 Last week was the first time that I had ever heard of the term "Pink Slime". Now I am not sure if it is the term or what it actually is that made me a little uneasy at the thought that I might have ate it.
For those of you who haven't heard "Pink Slime" is an additive that is added by some companies to their ground beef. This additive is made from scraps that remain after cattle are butchered into it's different cuts such as steaks. The plants will then remove the fat from the scraps and some of them will even treat the meat with ammonium hydroxide to remove any bacteria. It is then mixed with the ground beef.
The United States Department of Agriculture has deemed this to be safe but concern has been growing online about the quality of meat used for the filler and the process of using ammonium hydroxide.
If you have been watching the news in the past week you might have heard that because of the growing outcry over this, supermarket chains Kroger, Safeway and Supervalu have said they will stop selling all products that contain "Pink Slime" as soon as their current inventory is gone.
Because of all the backlash and grocery stores saying they will no longer carry this product, Beef Products Inc announced yesterday that it will be suspending production of these fillers in it's plants in Amarillo, Texas; Garden City, Kan.; and Waterloo, Iowa. This will in turn affect some 650 jobs.
According to the Wall Street Journal article that I read, 850 million pounds of additives are used in ground beef annually. This means that beef producers will need to find a new cut of meat to use as a filler. This will increase the demand for cattle at a time when supply has been fairly low.
The biggest question to be asked is what will this due to the price of beef that we pay in grocery stores. There is no question that this filler allows the prices to be kept in check. Are we going to see even higher prices now that they are forced to work with alternative methods?
Leave a comment and let me know what your thoughts are on this growing debate on "Pink Slime"
The following two tabs change content below.
Sean Bryant
Sean Bryant created OneSmartDollar.com in 2011 to help pass along his knowledge of finance and economics to others. After graduating from the University of Iowa with a degree in economics he worked as a construction superintendent before jumping into the world of finance. Sean has worked on the trade desk for a commodities brokerage firm, he was a project manager for an investment research company and was a CDO analyst at a big bank. That being said he brings a good understanding of the finance field to the One Smart Dollar community. When not working Sean and his wife are avid world travelers. He enjoys spending time with his two kids and dog Charlie.
Latest posts by Sean Bryant (see all)