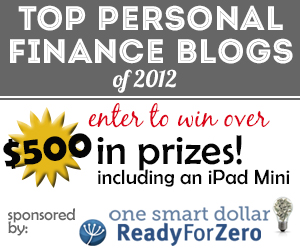 Well I just got done watching the NFC Championship game. If that game was any indication of what the New England and Baltimore game will be like then we should be in for a good one.
In case you didn't see it, earlier this week I officially launched my Top Personal Finance Blog of 2012 contest along with Ready for Zero.  We are in search of the readers choice for the blog that did the most to help change peoples finance lives.  If you have yet to nominate your favorite you still have time.  Nominations will be taken through January 31, 2013.  If you think your blog is the best then that is ok too.  Go ahead and nominate it.
Here are some of my favorite articles from the past week.
How I support My Family on One Income – Canadian Budget Binder
The Cost of Employee Benefits – The Family Finances
A Guide to Buying Into Gold – Modest Money
Improve your Attitude: Turn Negatives into Positives – Eyes on the Dollar
13 Money Resolutions for 2013: Stop Buying – Reach Financial Independence
A Guide to Understanding the Balance Between Risk and Reward – Money Bulldog
Two Common Debt Reduction Options – Debt Roundup
How to Save Money on Your New House – Work Save Live
Techniques I Use to Curb That Pesky Consumerism Itch – Broke-Ass Mommy
Money Rules Review and Giveaway – Plunged in Debt
How to Reduce Waste and Save Money – Financial Highway
Power Wallet Review – Money Smart Guides
Are Your In Charge of Your Financial Future? – Frugal Rules
Rules to Always Being a Gentleman – Fearless Men
The Difference Between Looking Rich and Being Rich – Prairie Eco-Thirfter
Think Twice Before You Buy a Pet – Mo Money Mo Houses
Winning Means Being Afraid to Lose – Club Thrifty
Equity vs Liquidation Value – Planting Our Pennies
The following two tabs change content below.
Sean Bryant
Sean Bryant created OneSmartDollar.com in 2011 to help pass along his knowledge of finance and economics to others. After graduating from the University of Iowa with a degree in economics he worked as a construction superintendent before jumping into the world of finance. Sean has worked on the trade desk for a commodities brokerage firm, he was a project manager for an investment research company and was a CDO analyst at a big bank. That being said he brings a good understanding of the finance field to the One Smart Dollar community. When not working Sean and he wife are avid world travelers. He enjoys spending time with his daughter Colette and dog Charlie.
Latest posts by Sean Bryant (see all)