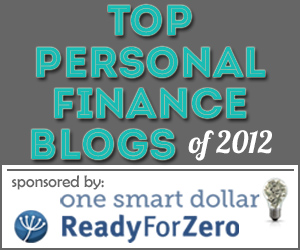 I hope most of you had a better week than I did because it seemed like everyday was an uphill battle. My wife and I had some friends in town last weekend from Chicago so we got a condo up in the mountains for a couple of nights. The first night we got up there I ended up getting sick and that ended up being a real bummer for the "relaxing weekend" that it was suppose to be.
We got back to Denver on Tuesday and just when I was starting to feel better I got knocked back down with a terrible head cold. It has been a struggle all week to get work done.
Needless to say I hope everyone else had a much better week than I did.  On a brighter topic you will want to make sure you vote for the top personal finance blog of 2012. You have until February 28, 2013 to get your votes in and then ReadyForZero and I will be giving away some great prizes to the top 3 vote getters. Now let's get on to some of my favorite personal finance articles from this past week.
The 8 Week Rule – We Only Do This Once
How To Stay One Paycheck Ahead of the Game – Work Save Live
Budget Fail: A Best Man and a Bachelor Party – Debt Roundup
My Lack of Attention Cost Me Money in Fees – Eyes on the Dollar
Dumpster Diving: The Top 5 Rules for Finding The Good Free Stuff – Canadian Budget Binder
Should People on Benefits Still Have to Work for Their Money? – Money Bulldog
Getting Personal: Dating With Debt – Girl Meets Debt
4 Reasons Why Having an Investment Plan Will Save Your Butt – Frugal Rules
When Spending Thousands is a Drop in the Bucket – Budget and the Beach
Can You Gamble Responsibly? – Reach Financial Independence
10 New Home Upgrades to Consider Before You Build – Stumble Forward
Imaginative Ways to Make Extra Money – Modest Money
More Home Decor Without More Cost – Mo Money Mo Houses
I Quit the 9-5…Forever – The Happy Homeowner
The Costs of Running – Planting Our Pennies
How to Balance Work and Education While Earning Your MBA – iHeartBudgets
How much Does an MBA Really Cost? – Money Smart Guides
My Financial Advice for New Grads – Frugal Habits
A Few Carnivals I submitted to…I have been really bad about doing this lately.
Carnival of Retirement
The following two tabs change content below.
Sean Bryant
Sean Bryant created OneSmartDollar.com in 2011 to help pass along his knowledge of finance and economics to others. After graduating from the University of Iowa with a degree in economics he worked as a construction superintendent before jumping into the world of finance. Sean has worked on the trade desk for a commodities brokerage firm, he was a project manager for an investment research company and was a CDO analyst at a big bank. That being said he brings a good understanding of the finance field to the One Smart Dollar community. When not working Sean and his wife are avid world travelers. He enjoys spending time with his two kids and dog Charlie.
Latest posts by Sean Bryant (see all)