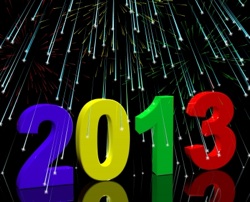 2013 is just a couple of days away and it's time for me to start thinking about what I want to see happen in the new year. As the fiscal cliff approaches it looks like most of us are going to need to budget in a little less take home income. Unless a last minute deal is reached the Bush era tax cuts will expire and payroll taxes will go up.
I want my wife and I to plan at least one large vacation and a couple more smaller ones. I racked up a bunch of airline miles in 2012 with my travel reward credit cards that will allow us to travel for free. The only obstacle is going to be traveling by plane with the baby for the first time. Both my wife and I are a little nervous. She did amazing in the car during a 15 hour road trip home for the holidays so that gave us a little more confidence.
I would like to see the housing market make a little bit more of a comeback so that we can sell our condo in Chicago. Right now we have great tenants however we are only breaking even financially so it's not worth holding onto longer than we absolutely have to.
I am looking for expand my income opportunities next year. I was approached about teaching a class in Denver about blogging so I might do that. My wife is a Denver public relations consultant, but has been wanting to do a little bit more writing on the side so we are going to work to get her a couple of freelance writing gigs.
Enough about me, let's get on to some of my favorite personal finance articles over the past couple of weeks.
Six Money Moves to Make in 2013 – Money Smart Guides
Increase Your Retirement Contributions for the New Year – Money Life and More
How to Decide Which Financial Goal to Tackle First – Master The Art of Saving
Ten Financial Red Flags in a Relationship – Mo Money Mo Houses
Mortgage Comparison: Easy as 1 2 3 – Finance Fox
A Love Hate Relationship With An Older Home – Planting Our Pennies
A New Year, A New Opportunity – Frugal Rules
Four Ways to Pay of Your Home Faster Than You Thought Possible
 – Three Thrifty Guys
How to Ask Your Boss for a Raise – Work Save Live
The Tale of Two Broadband Providers: The Very Best and Very Worst – Reach Financial Independence
Mr CBB's Thai Fish Cakes – Canadian Budget Binder
The Pros and Cons of Online Dating – Frugal Portland
The Fiscal Cliff Blog Round Up – Your PF Pro
5 Holiday Shopping Tips to Reduce Stress & Save Time – Modest Money
Snowed in and Succumbing to Lifestyle Inflation – Club Thrifty
5 Businesses for Retirement – Eyes on the Dollar
The following two tabs change content below.
Sean Bryant
Sean Bryant created OneSmartDollar.com in 2011 to help pass along his knowledge of finance and economics to others. After graduating from the University of Iowa with a degree in economics he worked as a construction superintendent before jumping into the world of finance. Sean has worked on the trade desk for a commodities brokerage firm, he was a project manager for an investment research company and was a CDO analyst at a big bank. That being said he brings a good understanding of the finance field to the One Smart Dollar community. When not working Sean and his wife are avid world travelers. He enjoys spending time with his two kids and dog Charlie.
Latest posts by Sean Bryant (see all)