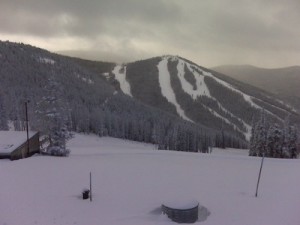 So this week I finally got out on the mountain and got in a little snowboarding.  I got a half day in on Tuesday and then went up for a few hours this morning.  For how little snow have had this winter the conditions were pretty good.
Tonight we had a local Denver #FinCon13 meetup, so it was good to get together with some of the other local bloggers for awhile.  It's not even 2013 yet and I am already looking forward to the next Financial Blogging Conference.
I wanted to make a quick mention that you need to head over to Ready for Zero and check out their two new resources available.  The first is Career tips and they have featured our article on how to answer the top 10 most common interview questions.  The second new section is Relationships and Money where they have featured our article how to talk about money with your partner.
My Favorite Articles This Week
Buying a House at 20 – How I Did It – Making Sense of Cents
What Will the Fiscal Cliff Mean to Health Care – Eyes on the Dollar
Winter Vehicle Maintenance: Saving you Money in the Long Run – Canadian Budget Binder
My Plan for Early Retirement – Outlier Model
A Frugal Persons View on Holiday Tipping – Frugal Rules
Responsible Holiday Party Hosting – Finance Fox
Increasing Insurance Deductible to Save Money – Debt Roundup
Making a House a Home – Club Thrifty
Paying for Self Employment Tax Year Round – Modest Money
How Do You View Your Money
 – Work Save Live
The Fiscal Cliff and Your Paycheck – The Family Finances
What Does $1 Mean to You? – I Heart Budgets
Should I Pay off My Mortgage Early or Look for a Better Return? – My Money Design
Are Your Finances and Amazing Race? – Money Master Mom
What to Include in Your Net Worth? – Planting Our Pennies
10 Ways to Save Money by Buying Alternatives – Money Smart Guides
Can Cheap Labor Make Your Lazy? – Reach Financial Independence
Carnivals
Carnival of Money Pros
Carnival of Financial Camaraderie
The following two tabs change content below.
Sean Bryant
Sean Bryant created OneSmartDollar.com in 2011 to help pass along his knowledge of finance and economics to others. After graduating from the University of Iowa with a degree in economics he worked as a construction superintendent before jumping into the world of finance. Sean has worked on the trade desk for a commodities brokerage firm, he was a project manager for an investment research company and was a CDO analyst at a big bank. That being said he brings a good understanding of the finance field to the One Smart Dollar community. When not working Sean and he wife are avid world travelers. He enjoys spending time with his daughter Colette and dog Charlie.
Latest posts by Sean Bryant (see all)