If you have started a budget over the past few years you have most likely either done so with an excel document or you have taken a look at Mint.com. Mint.com is a free online budgeting system that helps to track your spending and income to help maintain a positive cash flow.
Mint.com has gone above and beyond my expectations with not only what it achieves, but for its simplicity as well. Below are additional details on how it works. Once you have finished reading, get started with this free budgeting tool and you will see exactly what I am talking about.
Getting Started with Mint.com
Get started by creating your free Mint.com account. Once you are all signed up all you need to do is start loading your accounts into the system. Include your checking, savings, credit cards and investment accounts. Even if you conduct your banking through a small town bank, Mint.com will most likely have it in their system.
One of the biggest things I worried about before I signed up and entered my account details was security. This worry was quickly put to rest, as Mint.com uses bank level security.  If you are comfortable signing into your bank account online, you should be comfortable signing into your Mint.com account as well. A major plus for me was the fact that as I was attaching my various accounts, I was prompted to use my login credentials and not my actual account numbers.
Here is a short 90 second video for you watch that details all of the basics.
Overview
Once you have all of your accounts setup, you are officially ready to get started. You will initially start on the overview page because this will give you a complete view of all your account balances. It will show you how different investments are performing and will give you any alerts such as a bill that needs to be paid or if you have any irregular spending in one category.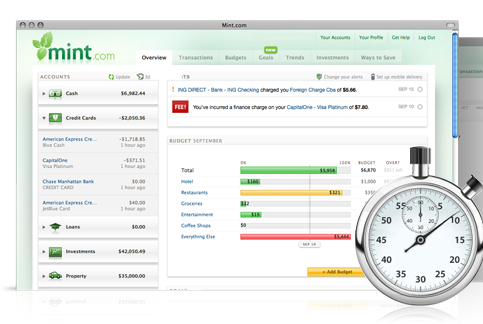 What I really love about the overview section is that it gives you a snapshot of how much you have spent during the current month for each of the budgeted categories. It will also show you what your budget is for each and if you have gone over.
Mint.com Alerts
Mint.com has an alerts feature where it will warn you for any of the following:
Over Budget
Late Fees
Large Deposit
Large Deposit
Bill Reminders
Bank Fees
More
I like the alerts feature because if I have a large payment such as the mortgage or an estimated tax payment that will be going out I can set an alert a few days before and make sure that the money is in my bank account. This will help me avoid an overdraft fee.
The alerts are also beneficial in making sure you are alerted of any big or unusual purchases. This can help quickly put a stop to any criminal acts as soon as they occur.
Transactions
In this tab you will see all of the different transactions that you have made with your various accounts. While Mint.com can figure out what category each transaction falls into, sometimes they miss it. I will go into the transaction list and I can add the category myself. This will ensure your spending graphs are 100 percent accurate.
It is extremely easy to find a particular transaction because you are able to sort by category. Let's say that you are looking into how much you spent two weeks ago filling your car's gas tank. You can sort by gas and fuel to easily find this transaction. You can also see how your spending under each category stacks up compared to the U.S. average.
Mint Budgets
The main reason why so many people use Mint.com is simply for the budgeting tools they have. Budgeting through Mint.com is extremely easy because after a few months they will automatically suggest a budget based on your spending habits. They base this off of your average monthly spending for each of the different categories.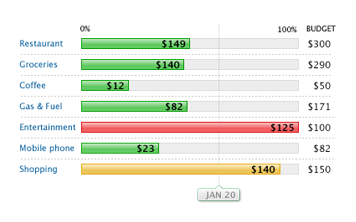 Being able to visually see where your money is being spent can be extremely helpful when you are planning for the next week or even the rest of the month. It also allows you to see areas in which you could cut back on in order to put more money into savings or plan for unexpected expenses.
Goals
Mint.com allows you to set up certain financial goals such as paying off your mortgage or paying off a credit card. While they have preset goals, you can also custom create one for your own needs.
Mint.com will help you by linking one of your accounts to a specific goal. If you set the goal that you want to save up to $20,000 for a down payment on a house and you want to reach this within 24 months, Mint will link this goal to a specific account. You will then be alerted when you when you have reached your goal.
Investments
Mint.com has an investment section, but it is pretty limited with what it can actually do for you. At the end of each day, you can log on to see where your portfolio balance stands after your trading efforts that day.
I am a firm believer in having a diversified investment portfolio and Mint.com will not help you to attain this. One thing they will do is help you spot hidden fees that a particular investment might have. If you are an active trader this could help you save a lot of money.
As far as being able to track my portfolio, I prefer to use the tools from my broker. They are much more in-depth to my needs.
Final Words
Overall Mint.com is an excellent way to track your spending and gives you the tools to help you stay within your monthly budget. There is a Mint.com iPhone and iPad app, as well as an Android app. This will help you keep track of things if you are not near an Internet connection when traveling.
The best part about the entire service is that it's free. Yes, that's right it's FREE. Mint.com has been mentioned by The New York Times, The Wall Street Journal and Money Magazine as being one of the best online tools for personal finance.
Head over to Mint.com and sign up for yourself.  Take it for a spin and see how it can help you with your finances.
The following two tabs change content below.
Sean Bryant
Sean Bryant created OneSmartDollar.com in 2011 to help pass along his knowledge of finance and economics to others. After graduating from the University of Iowa with a degree in economics he worked as a construction superintendent before jumping into the world of finance. Sean has worked on the trade desk for a commodities brokerage firm, he was a project manager for an investment research company and was a CDO analyst at a big bank. That being said he brings a good understanding of the finance field to the One Smart Dollar community. When not working Sean and his wife are avid world travelers. He enjoys spending time with his two kids and dog Charlie.
Latest posts by Sean Bryant (see all)