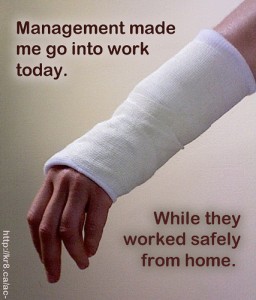 Having a job in this day and age is something millions of people worldwide are grateful for. Even if it's a role they don't particularly like, the fact that they're able to earn enough money to provide for their families is enough to be thankful for. However, if the income provided by a job were to be taken away, what would happen next?
Workplace injuries are fairly common in many offices, warehouses and other business premises. While the majority seem fairly negligible and heal in a matter of days, others are more serious and last for weeks, months or even years. If you had a serious accident at work, there's a strong chance you may have to take time off work to recover, which may harm your families finances.
When you become injured your personal finance could suffer because you may have to leave your job for some time. This may mean that, aside from statutory pay (sick pay in some countries), you may forgo the income you usually get from work. Statutory pay can only go so far, which may make paying for even the bare essentials difficult.
In many cases, workplace accidents are caused due to negligence on the part of the employers. If this is why you become hurt on the job, making a compensation claim could be an appropriate course of action. A successful compensation claim may help to replenish your income, helping you can get on with recovery.
According to first4lawyers.com, different levels of compensation are awarded depending on the severity and length of injury. However, other factors such as the amount of income lost also have a bearing on compensation.
It might sounds weird but different parts of the body are worth different amounts. For example, simple arm fractures are typically worth anywhere between $1,000 and $3,000 while more severe injuries can fetch amounts as high as $29,000.
The following two tabs change content below.
Sean Bryant
Sean Bryant created OneSmartDollar.com in 2011 to help pass along his knowledge of finance and economics to others. After graduating from the University of Iowa with a degree in economics he worked as a construction superintendent before jumping into the world of finance. Sean has worked on the trade desk for a commodities brokerage firm, he was a project manager for an investment research company and was a CDO analyst at a big bank. That being said he brings a good understanding of the finance field to the One Smart Dollar community. When not working Sean and he wife are avid world travelers. He enjoys spending time with his daughter Colette and dog Charlie.
Latest posts by Sean Bryant (see all)