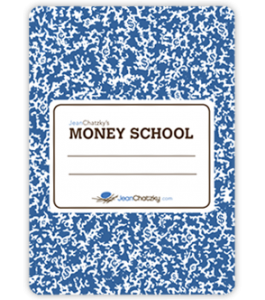 One of my favorite personal finance writers to follow is Jean Chatzky. If you are planning to attend #FinCon13, then you are going to have the chance to hear her speak because she is one of the keynote speakers. Jean is an award-winning personal finance journalist, the financial editor of the TODAY Show, a best selling author and the host of Money Matters with Jean Chatzky.
If you follow me on social media, then you probably saw that Jean was nice enough to ask me to publish a guest post for her last month called, "Vacation Not in the Budget?  Try a Staycation." If you haven't read the article yet, you should head over and check it out.
Recently, Jean launched Money School which is designed to help you take control of your finances with simple, inexpensive, virtual classes. The idea behind these classes is perfect for learning, because they allow you to interact with questions you might have. The one-hour live class will include a 45 minute lecture given by Jean, and then she will open it up for a 15 minute question and answer session. The week after the class, Jean and the Money School team will hold virtual office hours, which will allow you to ask any questions that you didn't have a chance to get answered.
Jean Chatzky Money School Classes
September 10, 2013 – Jumpstart Your Finances (How Even Beginners Can Take Financial Control)
September 17, 2013 – Budgeting Bootcamp
October 1, 2013 – The Debt Diet (Pay It Down! And Build Your Credit Up)
October 8, 2013 – A Crash Course in Saving More (and Spending Less)
October 15, 2013 – Yes, You Can Retire
October 22, 2013 – Protect Your Financial Life
Jean has been nice enough to offer one of my readers a free class of their choice. The winner will be able to pick one of the six classes that will best help them with their finances. To get signed up just follow the instructions in the Rafflecopter form below.
a Rafflecopter giveaway
The following two tabs change content below.
Sean Bryant
Sean Bryant created OneSmartDollar.com in 2011 to help pass along his knowledge of finance and economics to others. After graduating from the University of Iowa with a degree in economics he worked as a construction superintendent before jumping into the world of finance. Sean has worked on the trade desk for a commodities brokerage firm, he was a project manager for an investment research company and was a CDO analyst at a big bank. That being said he brings a good understanding of the finance field to the One Smart Dollar community. When not working Sean and he wife are avid world travelers. He enjoys spending time with his daughter Colette and dog Charlie.
Latest posts by Sean Bryant (see all)