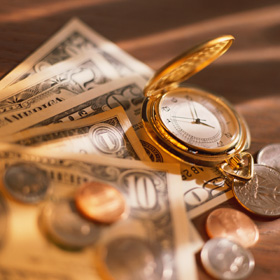 As a way to get more customers, some banks are offering special rates on money market accounts. Your immediate reaction when considering moving your money market accounts is to look at the amount you are gaining on those accounts. If there is a huge difference in the amount you would be earning, the decision is easy. However, is it worth moving them for half a percent? Is there a certain amount that should make you want to move your money? Although the amount your money market accounts are earning is probably one of your primary concerns, it shouldn't be your only concern.  Below are a few other things to consider before moving banks.
Security
Generally, just as junk bonds have to offer a higher yield to entice investors, more risky money market managers will offer a higher yield. How safe is your money? If security isn't an issue, you might want to investigate alternative investing methods, such as stocks or bonds, which will produce higher gains.

Fees
Don't forget about the fees. Some money market managers can have fees of up to $130 just to move your money before it matures. Will you be making money off of the move once you account for all of the brokerage fees, early termination fees, commissions, and any other fees that may be included in a movement of your money?
Time
If you plan to move your money, you are going to have to go talk to the manager of your current account. That account manager will undoubtedly try to convince you not to move the money. Once that conversation is over you will have to fill out the required paperwork if you still decide a move is right for you.  Time is money so judge for yourself whether the move is worth the time you will be forced to invest.
Relationship/Service
You may have your money with your local bank that you've used for years. If you move your money, you will probably be moving it somewhere that you haven't used before or used as much. This new place may have a great reputation for quality service, but that reputation isn't worth anything to you unless they back it up by giving YOU quality service.
These four thoughts are not intended to convince you to keep your money where it is or move your money. They are intended to make sure you consider these four important factors before deciding if it is worth moving your money for that higher percentage gain. Don't make rash decisions with your money. Think it through.
The following two tabs change content below.