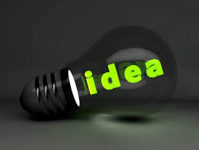 You are all ready to set up your business. You have the capital, the training, the expertise, the premises, a website, the staff and almost everything in place, but wait a minute; you do not have a business idea. So what do you do? Having an interesting and innovative business idea is critical to business success, but inspiration takes its own sweet time to strike. You cannot afford to waste time, as you want your business up and running quickly. What do you do?
The Key to Coming up with a Successful Business Idea
Inspiration is not easy but we all have our unique set of business and personal experiences. These experiences can prove invaluable in finding a successful business idea. Nonetheless, you should also follow a logical, thorough, and well-organized process to get business ideas flowing. A few planning strategies you can use include the following:
Design Your Success
Ask yourself a very simple question. What do you love doing the most and can you turn that into a successful business? If you have an idea, then you've already got a business venture ready. You just have to streamline the idea or modify it to make it unique. Based on what you like, you can find alternate cash venues. For example, if you like crafts and sell your work online, you should specialize in birthday gifts, home decoration items, etc. as they are profitable areas for business. Find a profitable idea, put your hardware into making it feasible and design your own success.
Embrace the Fear
There is a very good chance that your business may fail but don't let this affect you. Embrace the fear and plan around it by writing a different business plan and finding alternative ventures for success.  You can review blogs to go through a list of easy businesses to start.
Long-Term Profitability
Trends are always peaking on the market but for a profitable business, you should consider the long-term. There are always global and local market trends and demographics that will remain the same regardless of outside influencing factors. For example, in a local market like India, saris will always remain a popular clothing choice in spite of Western trends and fashions. This means that as a clothing business, having saris as a sales option along with trendy Western clothing can ensure a steady income that does not depend on seasonal trends. It makes sense to invest in a business that will have future growth potential and long-term profitability.
Unique Selling Points
A unique selling point is necessary to make your business stand out. For example, look at dating websites. There might be thousands of websites online but only a few like Ok Cupid are highly popular, because they have additional features that make them unique. For example, OkCupid is a matchmaking service that also offers blind dating through a local app. With the local app, people in a certain area can meet dates quickly and efficiently. This simple feature is the reason that OkCupid has more than 3.8 million subscribers and the website has posted a substantial growth of 33% since 2004. You can do this too by offering a unique feature that will attract customers and ensure success. However, don't be different just for the heck of it; offer something that your customers really want and it will make an impact.
Find Business Ideas
Sometimes brilliance takes its time and you just cannot find a good idea. In that case, you can try online resources. Try business websites like Forbes, US News and Entrepreneur, or go online to social media websites to find trending business ideas. Even Googling 'business ideas' will get you more than two million resources in fewer than two seconds. For example, a few popular business ideas include medical transcription, virtual assistants, customer service from home, clothing websites, hand-crafted wedding items, game and app development, repair and renovation services, virtual data rooms, home nurses, online travel agencies, content writers, translation services, etc. The choices are endless but remember to personalize these ideas to get the most benefits.
Ask for Help
Don't be afraid to ask for help from professional and experts in the field. There are firms that will help you come up with an interesting lateral and profitable business idea. This may cost you a little money but it is well worth it.
Final Thought
No matter which type of business idea you come up with, you should know that it's hard work and effort that will make it a success. Think about how you can make your business idea successful and how you can make it pay off financially and emotionally and implement these ideas proactively. Don't be afraid to ask for help and put your business and personal experience into the effort. More than anything else, this will push your business to be the best it can be and it will eventually become a success.
The following two tabs change content below.
Sean Bryant
Sean Bryant created OneSmartDollar.com in 2011 to help pass along his knowledge of finance and economics to others. After graduating from the University of Iowa with a degree in economics he worked as a construction superintendent before jumping into the world of finance. Sean has worked on the trade desk for a commodities brokerage firm, he was a project manager for an investment research company and was a CDO analyst at a big bank. That being said he brings a good understanding of the finance field to the One Smart Dollar community. When not working Sean and he wife are avid world travelers. He enjoys spending time with his daughter Colette and dog Charlie.
Latest posts by Sean Bryant (see all)