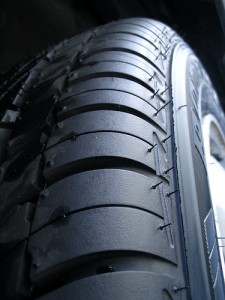 New tires can be a real inconvenience to a persons budget.  If you take some time to be an educated and informed consumer, you can save yourself some money on your next tire purchase.
While there is no exact consensus as to how often you should replace the tires on your vehicle, in most cases, the average set of tires lasts between 5 – 7 years. Your tires may need to be replaced sooner or later depending on how often you drive, weather conditions in your area, and whether or not you use winter tires.
Here are 7 things that will help you save money on tires this year:
Do Your Homework
Whether you are purchasing a new vehicle or it is time to replace your current tires, you need to do your research. Look into what tires and tire brands are known for their durability. Also, you need to think about the weather conditions where you live and determine which type of tire is best suited for your area.
Compare Prices
Comparing prices should be a no brainer, but it is still amazing to see how many consumers simply walk into the first tire place they see and buy new tires. Go online and compare prices. Once you target a specific brand, you should have no problem seeing who has the best deals in town.

Wait for Deals if You Can
Holding out for deals on tires is ideal.  It is important to be proactive and start looking for tires when you still have some time before the tread has completely worn down. You can also look for tire deals during the offseason or at wholesalers to save even more money.

Consider Buying Used
Buying used is an effective option. For a reasonable price you can get tires that will do the job.  You don't have to only buy from major chains. A lot of people will sell their unneeded tires online on website such as Craigslist and eBay.

Use Winter Tires
Purchasing a set of winter tires will not only benefit you during the winter months, but prolong the life of your regular tires. Consequently, helping you save money on tires in the long run.

Adjust Your Driving Habits
Adjusting your driving habits can help you save money on your tires. Doing things like driving less, avoiding potholes, frequently changing your speeds will place less stress on your tires. This can also prevent you from getting in an accident, which will also save you money on car insurance.

Keep Your Tires Properly Inflated
Part of proper tire maintenance is keep them properly inflated. This will ensure that you place less stress on them while driving and also help to increase your gas milage.
Saving money on tires is just as much about proper maintenance and driving as it is taking the time to look for a good deal. Follow these tips and you will be well on your way to saving money on your tires this year.
Author Bio:
InsuranceHunter.ca is an online car insurance brokerage that caters to residents in Alberta and Ontario.
The following two tabs change content below.
Sean Bryant
Sean Bryant created OneSmartDollar.com in 2011 to help pass along his knowledge of finance and economics to others. After graduating from the University of Iowa with a degree in economics he worked as a construction superintendent before jumping into the world of finance. Sean has worked on the trade desk for a commodities brokerage firm, he was a project manager for an investment research company and was a CDO analyst at a big bank. That being said he brings a good understanding of the finance field to the One Smart Dollar community. When not working Sean and his wife are avid world travelers. He enjoys spending time with his two kids and dog Charlie.
Latest posts by Sean Bryant (see all)