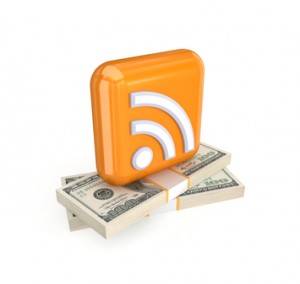 Two minutes after posting another hilarious Facebook post, you've got thirty "likes". Three hours after sharing your latest blog post on Twitter, your friends are re-tweeting your best lines. You've been entertaining people for free for years, but with a little dedication, you can turn your words into cash by monetizing your blog.
Generate Commission through Affiliate Marketing
While there are countless ways to monetize a blog, such as opening an online store or directing readers to your offline services, affiliate marketing may be one of the most lucrative and easiest places to start. When you sign up with an affiliate marketing company, you get the opportunity to download links and banner ads from all kinds of companies to your blog. When your readers click on those links, you will be rewarded with a bit of commission. There are countless affiliate organizations, and some big companies like Amazon even have affiliate programs that are super easy for a beginner to understand.
Mashable.com explains how to get started as an affiliate in four easy steps. The key is to create valuable content and choose a relevant affiliate program. If you work as a bill collector, write a blog on how to get out of debt and fill your site with ads for debt consolidation loans or financial planning services. If you are a mom, fill the Internet with your humorous tales and plug parenting books from Amazon in your sidebar. If you are a chef, write a cooking blog and let your ads sell cookbooks and restaurant gift certificates.
Let Templates Guide You
If setting up a blog with room for banner ads or side bar ads sounds too challenging, Linux VPS at MyHosting promises that the whole process can be accomplished easily. With a personal hosting plan, you get 24/7 user support, instant upgrades, and full control over your site. Templates are simple to set up, and they allow you to have a fully customized professional looking site, without any knowledge of programming languages.
Immediate Monetization
Your content will draw in your readership, but once you have the traffic, you need to figure out how to convert it to cash. Many bloggers think that they need to build up a dedicated audience before they can monetize, but this is not always the case. Just as a store owner starts selling products the first day they open their doors to the public, you can monetize your blog the very moment you publish it online.
ProBlogger.net claims that by monetizing your blog from the start, you will teach yourself a lot, just by trying. By posting links from different affiliate programs, you'll learn which products resonate with your readers. By playing with different content angles, you'll learn what makes your readers more likely to buy something. Do your readers buy parenting books after they've read about your latest escapes with your rowdy brood? Do they buy products after you've written a favorable review? Even if your efforts don't yield a lot of cash, the education that you receive will be invaluable.
Waiting to Monetize
Writer Grechen Reiter of Independent Fashion Bloggers, on the other hand, advises to wait to monetize until you are providing something of value to the online community. Wait until readers are re-tweeting you, until discussions spring up regularly in the comments section, or until a post of yours has gone viral — then monetize.
If affiliate marketing doesn't appeal to you, Reiter suggests contacting the brands and boutiques that are most inline with your readers' interests and post banner ads or links from those companies. If a company doesn't have the budget to pay you upfront, Reiter advises working out a mutually beneficial relationship. Will they plug your blog on their site in exchange for some marketing space? Will they mention you on their Twitter feed or in a Facebook comment? If they're willing to give you exposure, it will help you in the long run. With a little creativity and a lot of gumption, your blog can become your new cash revenue.
The following two tabs change content below.
Sean Bryant
Sean Bryant created OneSmartDollar.com in 2011 to help pass along his knowledge of finance and economics to others. After graduating from the University of Iowa with a degree in economics he worked as a construction superintendent before jumping into the world of finance. Sean has worked on the trade desk for a commodities brokerage firm, he was a project manager for an investment research company and was a CDO analyst at a big bank. That being said he brings a good understanding of the finance field to the One Smart Dollar community. When not working Sean and his wife are avid world travelers. He enjoys spending time with his two kids and dog Charlie.
Latest posts by Sean Bryant (see all)