Shopping at the mall is one of my least favorite things to do. Unless I absolutely have to, you won't catch me there.  The crowds can be a major pain and the deals are not as great as they make them out to be. That being said, I love online shopping. It allows me to buy what I want in a fraction of the time and at a fraction of the price, when done right.
Cash back websites seem to be popping up one after another, but I am not going to complain as long as they continue to help me save money. Combine those with the rewards I can earn by using my rewards credit cards and I am making out pretty nice.
To be able to really get the best deal possible you need to be able to maximize how much you can save on your purchase while also boosting the amount of rewards you are earning. By following a few simple steps, you will be able to do just that every single time you shop.
Purchase Discount Gift Cards
The very first thing you need to do is look for any discount gift cards that might be available online. I like to go to Raise.com because they tend to have one of the better selections available. Our house doesn't have central air, so last week I needed to purchase a new window air unit. I looked on Raise.com and was able to purchase a $100 Lowe's gift card for just $94.50. Right off the bat I was able to save over $5.00 on my purchase.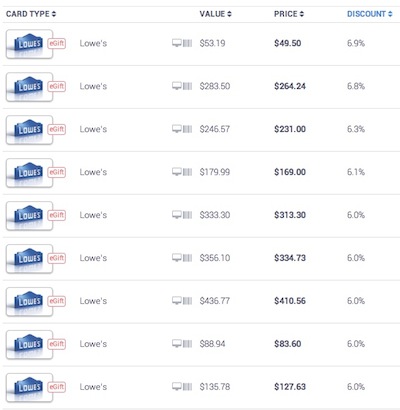 Buy Discount Gift Cards Through Cash Back Websites
To help boost that savings, I was able to get that gift card for even cheaper than the $94.50. I searched one of my favorite cash back websites, BeFrugal.com to see if they offered cash back on purchases from Raise.com. Well guess what, I was able to get 2% cash back on my gift card purchase. That means I was able to save an additional $2.00 lowering the price to roughly $92.50.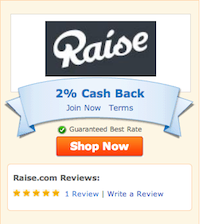 Shop Through Your Favorite Shopping Portal
By now you have your discounted gift card and you are ready to shop. When I shop online I will go to two different places. I either shop through Chase Ultimate Rewards or I shop through the American Airlines shopping portal.  There are several others to choose from depending on what rewards program you are a member of, but these are my go-to's.
Before you make your purchase you will need to find out who will give you the most rewards for every dollar you spend. I found out that if I shopped through American Airlines I was going to receive 3 miles per dollar spent whereas I would get 5 points per dollar through Chase Ultimate Rewards. Pretty easy decision for me on who got my business.
Shop Using Online Coupon Codes
Finally you will want to look for any coupon codes that might be available. A simple Google search will bring up multiple sources for you to find a coupon to use. Unfortunately, Lowe's didn't have any available online coupons for me to use at the time. A lot of times you can find some really good coupons that range from free shipping up to 30% – 40% off depending on what you are buying.
Final Thought
Saving money when shopping online takes a little bit of work but is well worth the time. I was able to save around $7 by using a discount gift card and BeFrugal.com. I then earned nearly 600 Chase Ultimate Rewards points. I also used my American Airlines credit card which means I will also receive around 120 miles for that purchase.
What are your favorite ways to save money when you are shopping online?  Do you do any other the things I mentioned?
The following two tabs change content below.
Sean Bryant
Sean Bryant created OneSmartDollar.com in 2011 to help pass along his knowledge of finance and economics to others. After graduating from the University of Iowa with a degree in economics he worked as a construction superintendent before jumping into the world of finance. Sean has worked on the trade desk for a commodities brokerage firm, he was a project manager for an investment research company and was a CDO analyst at a big bank. That being said he brings a good understanding of the finance field to the One Smart Dollar community. When not working Sean and he wife are avid world travelers. He enjoys spending time with his daughter Colette and dog Charlie.
Latest posts by Sean Bryant (see all)