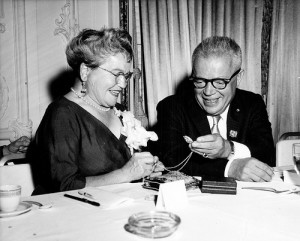 The benefits of frugal living are real.  In time, a person really can take control of their finances, pay off bad debts, build savings, and drastically increase net worth simply by cutting out needless expenses and living a frugal lifestyle.
Similar to building a small business, the idea underlying the entire notion of frugality, however, is freedom and empowerment.  Therefore, there are areas of one's life that must not be surrendered to the pursuit of debt free living.  At the end of the day, happiness is the goal.  If you become debt free, but you despise your lifestyle, there won't be a huge improvement in your life experience.  This exact reason is why frugality and the pursuit of debt-free living is as much an art as it is a science.
Let's take dating, for example.  Quality time with one's loved one is a huge input for real happiness.  The depth and connectedness of our relationships with each other tend to have a significant impact and affect on our enjoyment of life.  And dating isn't only for non-married folks!
Now, a mistake that many people make when first embarking on the path of frugality is to cut out "needless expenses" such as eating out and date nights.  Let's face it—dates are expensive.
Typically, a cheap date can easily run $100 for a couple with children:  $50 for babysitter (5 hours x $10/hr) + $50 food and entertainment.
And that's a cheap date.  If you want a nice restaurant and a good movie, you are talking closer to $150 for one date.  If you do that twice per month, one is looking at $200-$300 per month to keep that flame of romance going.  So, what is a person to do?  Is it wise to cut out this spending, or should it be viewed as an essential expense?
This where the art and science of frugal living intersect.  The reality is that personal, quality time with loved ones cannot be compromised.  When considering decisions in your small business like which online merchant accounts to open, there is little art involved.  But with dating, the best solution is to get creative and begin to brainstorm extremely cheap, but meaningful date ideas.  Here are a few to get the idea muscle going:
The Picnic
Picnics are timeless.  They will never become "unromantic!"  There is simply something magical about sharing a meal in the midst of a beautiful landscape.  If you live in the middle of the city, consider a new park you have never visited, or even driving just outside the city if possible.  Grab a bottle of Charles Shaw (the best $2 bottle of wine you will ever buy), pack up some good food, and head out for a romantic evening of sunset + stars.
The Dollar Theater
Why pay $10 per ticket for a movie, when you can pay $1, right?  Let that new movie get a few months old, and catch it in the dollar theater.
Babysitting Co-op
If you have children, considering setting up a babysitting co-op between your friends, neighbors, parents from school, etc.  By watching each other's kids, everyone can erase one of the largest costs of dating—the babysitting—entirely.  This can save up to $100 per month if you go on 2 dates.
These are just a few ideas to get the creative juices flowing.  Remember, never sacrifice dates for frugality.  Instead, simply fire up those creative ideas and you can create memorable romantic evenings without the feeling of cheap.
This article has been contributed by Jason Hoerr from MerchantSeek.com.
Editors Note: My wife and I regularly make an effort to go out to dinner or just to a street festival here in Denver.  Not only does it keep things from getting boring, but it also helps us to relax.
What kind of frugal date ideas have you used?
The following two tabs change content below.
Sean Bryant
Sean Bryant created OneSmartDollar.com in 2011 to help pass along his knowledge of finance and economics to others. After graduating from the University of Iowa with a degree in economics he worked as a construction superintendent before jumping into the world of finance. Sean has worked on the trade desk for a commodities brokerage firm, he was a project manager for an investment research company and was a CDO analyst at a big bank. That being said he brings a good understanding of the finance field to the One Smart Dollar community. When not working Sean and his wife are avid world travelers. He enjoys spending time with his two kids and dog Charlie.
Latest posts by Sean Bryant (see all)