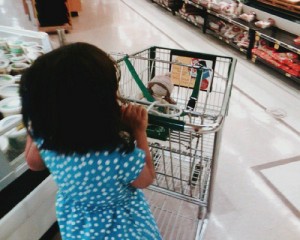 The numbers are astonishing when it comes to how many Americans are overweight or obese. More than 35 percent of U.S. adults and 17 percent of children between the ages of two and 19 are considered obese. While a majority of this problem is due to low amounts of exercise, the other part stems from poor eating habits. If you follow these simple tips on how to eat right you will not only trim your budget, but your waistline as well.
Plan your shopping trip
Before you even think about leaving to go to the store make sure you have a plan. Come up with at least three meals that you would like to fix during the week. If you plan these accordingly, you can use the leftovers to fix a second meal. Recently my wife and I fixed a recipe for shredded chicken tacos in the crock pot. We could have easily taken the leftovers to make a chicken tortilla soup, but instead we used them for lunch the next day. By planning out your meals and the items you want to get at the grocery store you will be less tempted to throw objects into your cart that you don't need.
Never go grocery shopping on an empty stomach
Going to the grocery store before you eat is one of the worse things you can do. Not only will you end up purchasing items that you don't truly need or want, you will also have a greater chance of purchasing items that are not quite as healthy for you. The best time to go shopping is after one of your three meals of the day.
Focus your attention on the outer areas of the store
Most of the healthy items that you will find in a grocery store you will find around the perimeter. There you will find produce, meats, fish and organic items. Focus the majority of your time here and avoid the processed foods you will come across throughout the middle of the store.
Learn to use coupons when you shop
It's not very hard to learn how to use coupons to save money. You don't need to be into
extreme couponing
 to be able to save money.  A coupon here and there on the items that you need can end up saving you a lot of money over the course of a year.
A lot of people have the misconception that a healthier/organic store like Whole Foods is an expensive place to shop for groceries.  Well those people are right and wrong. Whole foods can be expensive, however, when you properly use coupons you can get some really great deals on products. Did you know that Whole Foods has their own store coupons? You can use them alongside a manufacturer's coupon to get the best deal. Before you head to the store learn how to use coupons and you will really see a difference in your overall total.
Buy Your Produce When It's in Season
One of the worst times to go shopping for produce is when it is out of season. This is when the prices will be at their highest. If you get a craving for a mango in December fight the urge, as it will save your wallet the pain.
If a store is running a sale on produce and you are not quite ready to buy more, you can purchase items that are not fully ripe. This will ensure you still get the great price and will allow the fruits or vegetables to stay fresh for when you're ready to eat them.
Buy Items in Bulk
Buying items in bulk is the best way to get the best prices. Large packages of items tend to have a lower per count cost. If you are a family of two, this will only work with certain items including products you can freeze or most non-perishable items. If you match store sales and coupons with these bulk items you will get optimal savings.
How do you save money on food while eating healthy?
Now you have your chance to win a $100 cash prize via Paypal which will help cut down your holiday food budget or you can select a $100 Amazon gift card. Just enter below.
a Rafflecopter giveaway
If you are a blogger and would like to join the next giveaway you can find out more by clicking here.
The following two tabs change content below.
Sean Bryant
Sean Bryant created OneSmartDollar.com in 2011 to help pass along his knowledge of finance and economics to others. After graduating from the University of Iowa with a degree in economics he worked as a construction superintendent before jumping into the world of finance. Sean has worked on the trade desk for a commodities brokerage firm, he was a project manager for an investment research company and was a CDO analyst at a big bank. That being said he brings a good understanding of the finance field to the One Smart Dollar community. When not working Sean and his wife are avid world travelers. He enjoys spending time with his two kids and dog Charlie.
Latest posts by Sean Bryant (see all)